APC Has Outperformed The Former PDP Government – Osinbajo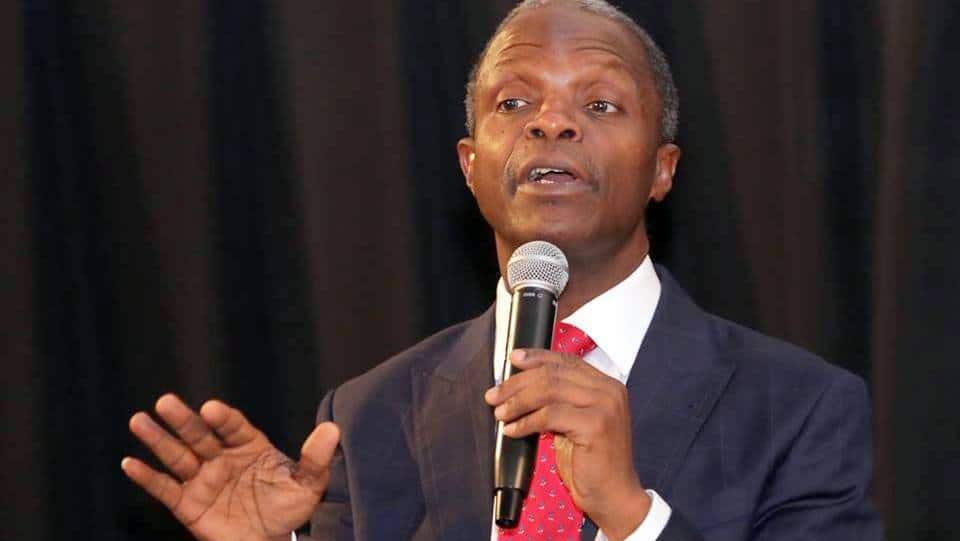 Federal Government Will Continue To Arrest And Prosecute Looters – Osinbajo
Nigerian's Vice President, Yemi Osinbajo has said the present government has many developmental projects to point to as part of its achievements, saying the All Progressive Congress (APC) had outperformed the previous government of the Peoples Democratic Party which spent 16 years in power.
The Vice President was speaking on Thursday, at the Opening of the National Micro, Small and Medium Enterprises(MSME) in Akure of Ondo State.
According to him, the present federal government , has earned less than 60 per cent of what the previous government earned, but his party had executed many developmental projects within the last three years.
"We have access to lesser money than the previous administration but what we have been able to do are far more than what they did," said Mr Osinbajo.
"We are able to achieve this because we are spending what we have for the people. We have spent over N1.3 trillion on infrastructure to better the lives of Nigerians.
"They promised Lagos- Kano rail line, they did not do it. We earned lesser than they had, we are doing it. Look at Lagos Ibadan rail line, they had much money, they did not do it, we are doing it. Look at Lagos -Ibadan Expressway, we are doing it.
He also noted that the federal government will continue to make arrests of suspected looters of the national treasury and put them on trial despite the difficulty in putting them behind bars.
He also said corruption was fighting back as represented in the desperation by some "corrupt politicians" to ensure that President Muhammadu Buhari was pushed out of power.
"We will continue to put them on trial even if they are not thrown into jail yet," the vice president said.
"We shall continue to arrest those who stole the nation's money. They said we have not been able to convict anybody, we are not bothered, we shall continue to arrest and prosecute them. Let the case remain in court.
"The corruption is desperately fighting back so that they can come back to into power. God will make it impossible."
He also noted that those who are insisting on the exit of the present government were those who want to continue to perpetrate corruption in the country.
"We will continue to spend and invest on people, the difference between us and the previous administration is that we are not interested in stealing public funds and we hold ourselves responsible to account for every money spent in order to move the country forward because we believe this country should not experience any difficulty to move forward."
Speaking on the Government's plan on the MSMEs on the Mr Osinbajo noted that the federal government had earmarked about N500 billion for the MSMEs across the country but said only N8 billion had been expended on the programme despite the paucity of funds.
He said more than 200,000 volunteers had been absorbed into the N-Power programme and additional 300,000 would soon be employed by the federal government.
In his remarks, the Ondo State Governor, Rotimi Akeredolu, said the MSMEs initiative underscored the determination of the present government in the country to drive the economy towards self reliance.
Mr Akeredolu noted that the MSME clinic had been used as a veritable platform and delivery tool for development.
Read More Latest News and Updates HERE
Copyright Naija News 2018.
All rights reserved. You may only share Naija News content using our sharing buttons. Send all news and press releases to
newsroom@naijanews.com
.