Stop Your Habit Of Lying Against My Government, Jonathan Warns Osinbajo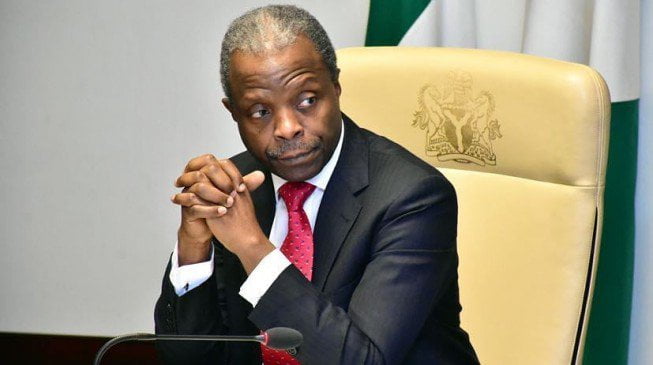 Jonathan Denies Osinbajo's Claims Over His Administration
Former President Goodluck Jonathan on Wednesday has demanded for Vice President Yemi Osinbajo to stop spreading falsehood and lies about him and his administration.
In a statement the GEJ Media Office issued yesterday, Jonathan spelt out a host of allegations of what the Vice president at different times has said against his person.
Jonathan added that even after Osinbajo had been called upon repeatedly to respect his supposed pastoral calling and stop his nasty habit of lying, he refuses to heed these calls and continues to spew falsehood.
"Last Tuesday, Osinbajo had at The Platform, a programme organised by the Covenant Christian Centre in Lagos alleged that three unnamed persons stole $3 billion (N1 trillion) in the Jonathan administration".
"On March 19, also, Osinbajo alleged that the Jonathan administration shared N150 billion two weeks to the 2015 elections while it spent a paltry N14 billion on agriculture in 2014; N15 billion on transportation and only N153 billion on infrastructure in three years.
If Osinbajo fails to heed this advice, the former president urged the cleric "to remember that the RCCG ordains its pastors not to lie but to spread the word of God, "asking if "this is what Vice President Osinbajo is doing?"
Jonathan recalled that Osinbajo falsely alleged that he took N100 billion from the Central Bank of Nigeria (CBN) in cash to his personal house in Abuja.
When challenged to provide proof of his fallacious claims, the former president disclosed that the vice president hid behind 'sources' and began to feed stories from anonymous officials to the media.
This time around, according to him, Osinbajo alleged that three persons working in his government looted $3 billion from the country's resources without providing proofs to back his allegation against his administration.
He, thus, noted that the vice president "is a liar, forgetting or perhaps not caring that the devil is the father of all liars. I challenge him once again to prove me wrong by mentioning those three people and providing proof that they stole the amounts allegedly stolen.
"It is sad that at a time when the Buhari administration should be telling Nigerians what they have achieved after three years, they continue to blame and point fingers. The reason for this is because neither Buhari nor Osinbajo can point to any project that they have initiated, started and completed in three years," he explained.
Jonathan noted that the people of Nigeria voted for Buhari and Osinbajo because they said subsidy was a fraud and would be stopped; that fuel would be sold at 40 per litre, and that fuel scarcity would end.
After three years, Jonathan said the Buhari administration "is paying more subsidy than former President Jonathan ever paid at 1.4 trillion annually. Fuel price was increased from 87 to 145 per litre, Fuel scarcity is worse.
"Faced with these facts, a desperate Buhari administration, wanting to be re-elected and knowing that it cannot run on its record, has devised a plan to distract attention from its woeful record of failure by making constant false allegations on my person."
He lamented that the Buhari administration "has yet to tell Nigerians what happened to the $25 billion that was awarded in contracts without due process by the Nigerian National Petroleum Corporation (NNPC)."
The statement  further inquired to know if "Maina was returned, reinstated, double-promoted and given armed guards or why the indicted Executive Secretary of Nigerian Health Insurance Scheme was reinstated despite a clear case of corruption or when Babachir Lawal would be charged.
"Instead, they continue to throw mud at those who have achieved what they have not achieved.
Jonathan further threatened to call on Pastor Adeboye to withdraw the Vice President's pastorate "If Osinbajo cannot stop his habit of lying"