54-Year-Old Pastor Allegedly Rapes Neighbour's 9-Year-Old Daughter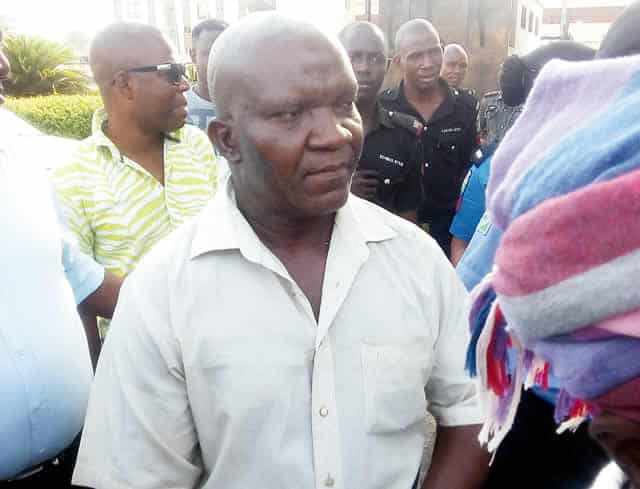 He Was Said To Have Molested Her Severally, Before Eventually Raping Her
A pastor, 54-year-old Udoh Okon, of Christ Abiding Church, Bankole Street, Somolu, Lagos, has been accused of raping his neighbours's nine year old daughter.
Okon, who was reported to have sexually harrassed the girl several times in his wife's shop, before he eventually raped her was reported to the police on April 18.
Naija News learnt that the girl's mother saw sperm dripping out of her private part when the girl was sleeping.
She reportedly woke the girl and started probing her. The girl eventually confessed that Okon slept with her and had been happening since 2017.
The Pedro Police Division arrested the pastor, and he was paraded by the state Commissioner of Police, Edgal Imohimi.
Imohimi said after a medical examination of the girl, it was revealed that the girl's hymen had ruptured, although Okon had denied the allegations.
He said, "The command recorded a case of defilement which was reported at the Pedro Police Station.
"According to the complaint received from one Peace Effiong, her nine-year-old daughter has been behaving unusually. So, on April 13, 2018, while the little girl was asleep, the mother observed that semen was dripping from her private parts.
"She was alarmed. She woke up the girl who told her that one Pastor Udo Okon, the man in charge of Christ Abiding Church, had been having unlawful carnal knowledge of her since last year. The victim went further to reveal that it was in the pastor's wife's shop that she was raped. Investigation into the case is in progress."
Imohimi, warned that parent should be at alert concerning their children and threatened that negligent parents would be arrested by the command and prosecute them in accordance with sections 247 and 249 of the Criminal Law of Lagos State, 2015.
The pastor however denied the allegations leveled against him, saying that the victim's mother had connived with his "spiritual enemies" to blackmail him.
He said, "Sometime in December last year, I saw some people on the street. When I asked them what happened, they said the woman was beating her daughter. I joined them and went to her shop. I saw the girl kneeling and raising a stone. She was crying.
"Her mother said somebody in her compound reported to her that some people made love to her in the compound many times. I begged her and advised her that any time she wanted to punish the girl, she should not do so in the public.
"I left and went back to my shop. My shop and the woman's are close to each other. Sometimes, when I am passing by with a bag, the girl would collect it to show respect. Sometimes when I am working, she will come and ask if she should help me.
"A few days ago while I was arranging bottles in my shop, she came again. I asked her to help me collect empty bottles from another shop. She helped me to bring the bottles and kept them outside. My wife was around that day.
"I was surprised to be accused that I raped the girl; I am old enough to be her grandfather. I never did such a thing in my life. God knows that I never did it. I swear before God. I have been a pastor in the church for almost 30 years now and I have never done anything wrong."