FG Wants Solution To Air Pollution In Port-Harcourt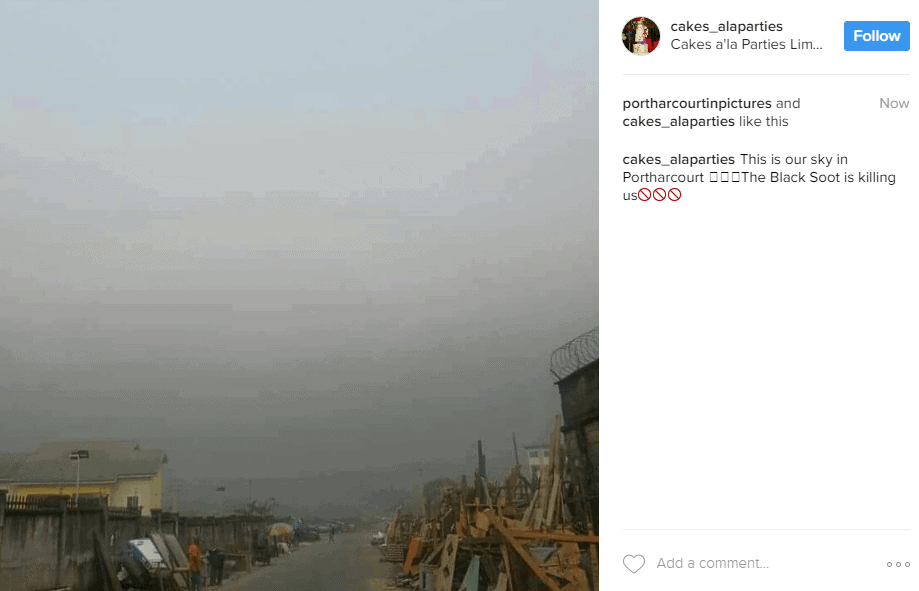 The federal government has decried overwhelming air pollution problem in Port Harcourt and its environs, stating that it could have serious direct and indirect implications on other parts of Nigeria if not curtailed.
In a statement issued on Wednesday by Mr. Oyofo Sule, The Deputy Director of Information, National Environmental Standards and Regulations Enforcement Agency (NESREA), said the Minister of State for Environment Ibrahim Jibril gave the warning last week at a one-day stakeholder meeting held in Port Harcourt, Rivers State.
it points to the increase of cases of respiratory disease, eye problems and other ailments is not unconnected to the growing incidence of soot pollution.
The Minister, who acknowledged the serious social, economic, health and environmental inplication of the soot, said it has been a source of worry for resident of the city; and the complaints associated with its settling on roof tops, floors, offices and vehicles.
Naija News gathered that he also noted that the stakeholders meeting was aimed at proffering a long lasting solution to the problem, while imploring the participants of the meeting to come up with solutions that would help the federal government tackle the issue with all seriousness.
"This is a good opportunity for us to deliberate collectively and find a lasting solution to this issue. We have come here to act now. The outcome of this meeting will not only assist to address the problem in Port Harcourt and its environs but also other parts of the country.
"There is an urgent need to further intensify actions to address this problem. This is precisely why we have gathered here today.
"The meeting is a clear evidence of the commitment of the federal government and its capability to discharge its duties and functions towards protecting lives and properties of the people in Port Harcourt and its environs."
According to This Day Live, the Director-General of NESREA, Dr. Lawrence Anukam, said the meeting was carefully structured to elicit concrete recommendations with forward looking programmes and activities that would address the problem.
He assured the participants that NESREA would continue to collaborate and partner with key stakeholders at the federal and state levels in the quest to solve the air pollution problem in Port Harcourt and environs.
Meanwhile, Niger Delta Militants have threatened to lead Nigeria into another economic recession, see reason.