Akwa-Ibom Commissions New Transformers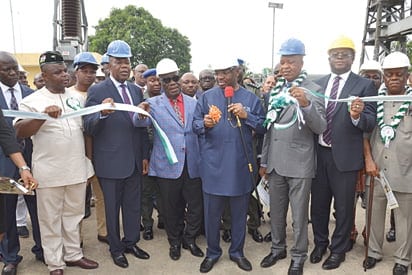 Akwa-Ibom Indigenes Beg For Employment As Government Commissions New Transformers
The  Akwa Ibom State Government has commissioned 1×60MVA, 132/33KVA power transformers in the AFAHA Ube Itam Community in replacement of those burnt by a recent fire.
While appreciating Governor Udom Emmanuel's   administration for quick intervention in approving the release of transformers to his community to replace burnt ones as well as the construction of roads within the community, the village head, Eteidung Gabriel Edet speaking  on behalf of the village council expressed worry over the non-employment of their indigenes at the transmission substation and implored the Governor to look into the matter
"Your Excellency, in your inaugural speech as Governor of Akwa Ibom State on May, 29, 2015 you said, our heavenly father, history and posterity will not forgive our generation if we fail to continue the search for a better state.
"The search you further explained, is anchored on the timeless promise that whoever asks shall receive, whoever seeks shall find and whoever knocks, it shall be opened unto him. This promise is God-given and large enough to shelter every boy and girl, man and woman, young and old from the scourging heat of injustice.
"It is on this premise therefore that we seize this opportunity to inform you that this 132KVA Transmission substation was situated in Afaha Ube Itam as far back as 1989 and from that year, no indigene has been employed in the establishment. We are confident to present this our request to you to shelter us from this injustice."
Governor Udom Emmanuel in his remarks said the provision and replacement of transformers and cables demonstrated the determination of his administration to ensure every community enjoys electricity, even though it is not his responsibility, and urged the youths of the community to take advantage of constant power available in their area to engage in useful ventures.
He particularly appealed to youths to ensure that the facilities at the transmission substation were protected from vandalisation, promising to look into other issues raised by their village head including the provision of street lights within adjoining streets in the operational area of the transmission substation.
"You cannot be the host community to this kind of asset and then you do not enjoy light. It does not happen anywhere. We will always make sure that this community has steady electricity. We had fire accident here not quite long ago where one of the transformers got burnt, and I used to feel that in Nigeria, maintenance and response cannot be prompt, so my appreciation goes to the Transmission Company of Nigeria, TCN for their quick response in replacing the burnt transformer and increasing the capacity."
Managing Director and Chief Executive Officer of TCN, Mr Usman Gur Muhammed, represented by Head, Transmission Service Providers, Engr. Victor Adewumi attributed the prompt replacement of the burnt transformer to improved performance of TCN contractors including T & D that handled the Afaha Ube Itam substation.