Boko Haram Collects Tax From Parts Of Borno And Yobe – Report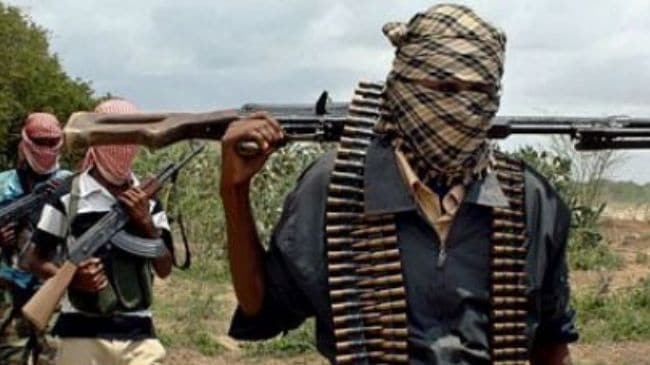 Federal Government Debunks Rumour Of Boko Haram Protection On Some Parts Of The North
The federal government and the Defence Headquarters have rubbished the news that a Boko Haram faction is providing protection for some Muslim residents in parts of Borno and Yobe states.
Reuters reports that a Boko Haram faction, also known as the Islamic State in West Africa (ISWA)  have been collecting taxes from the towns they have seized in exchange for their protection.
ISWA, which is led by Abu Musab al-Barnawi, the son of Boko Haram founder, Muhammed Yusuf, reportedly, gives out seeds and fertilizers and provides safe pasture for herdsmen for a fee.
According to a herdsmen, ISWA provides safe grazing for a cow at about N2,500 ($8) and N1,500 ($5) for smaller animals. ISWA also runs slaughterhouses for the cattle, taking a cut for each animal.
The group, which is said to have between 3,000 and 5,000 fighters, is believed to have strong links with the Islamic State of Iraq and Syria, the world's most notorious terrorist organisation.
The report also says ISWA territory extends more than 100 miles into Borno and Yobe, where the Federal Government claims terrorists have been 'technically defeated.
"Islamic State has a terrible reputation for being so brutal around the world, and people can't imagine an Islamic State faction could be more moderate (than Boko Haram)," said Jacob Zenn, of The Jamestown Foundation in Washington D.C.
The Lake Chad countries – Nigeria, Niger, Chad and Cameroon – have long neglected the region, allowing ISWA to create a stronghold from which to launch attacks. Its gains contrast with setbacks for ISIS.
ISWA's territory is not completely secure, however, as the Nigerian Air Force often bombs, and troops from Lake Chad countries attack the insurgents' domain around its shores and islands.
The report adds that Boko Haram and ISWA are bloody rivals, but some travellers in ISWA territory feel safer than elsewhere in Nigeria's North-East.
"They have checkpoints for stop and search, and if you are a regular visitor they know you," said a herdsman, adding that ISWA has spies everywhere, including informers who alert them to military attacks.
However, the Minister of Information and Culture, Alhaji Lai Mohammed, maintained that the report was 'absolute nonsense and based on falsehood.
He said, "The report is absolute bunkum. The report is false and there is no place where taxes are being collected or terrorists are in control. I just spoke with the theatre commander and he also denied it."
The Director of Defence Information, Brig. Gen. John Agim, also rubbished the report, insisting that there was a conspiracy by some western interests to frustrate the war against terror through propaganda.
Agim said, "There is no territory that is under the control of the terrorists. Find out from the political leaders in the state if there is any local government under Boko Haram territory. There is none that is under the control of terrorists.
"I know that they have been driven into the Sambisa Forest and because of the size of the place, the military cannot remain there because it is 10 times the size of Lagos and each time we clear the place, terrorists always return to the place.
"But there is no local government that is under Boko Haram. A lot of international bodies are doing a lot to discredit the military and ensure that Nigeria does not overcome Boko Haram. Most of these international bodies are doing a lot to ensure that Nigeria doesn't clear Boko Haram."
Naija News recalls that the army recently launched operation last hold which is targeted at wiping out the remaining Boko Haram insurgents in the North Eastern part of the country.