Ooni, Oba of Benin Pleads With Presidency To End Herdsmen Killings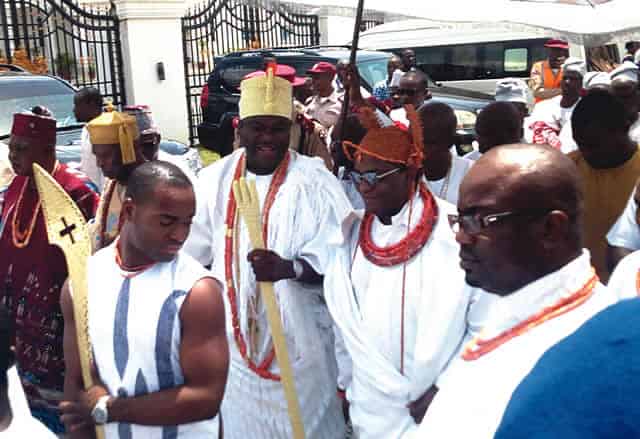 Stop These Killings – Oba Of Benin, Ooni Charges Buhari
The Oba of Benin, Omo N'oba N'Edo Uku Akpolokpolo, Ewuare Ogidigan II, and the Ooni of Ife, Oba Adeyeye Ogunwusi have called on President Muhammadu Buhari to end the killings in Nigeria.
Oba of Benin who made the call  during a courtesy visit to Governor Aregbesola at Government House, Osogbo urged the Presidency to take necessary steps that would strengthen security in every part of the country.
"I want you to mobilise your colleagues in the Nigerian Governors' Forum to address the issue of insecurity in the country and do something to stop the unwarranted killings by herdsmen in Benue, Borno, Adamawa, Yobe, Edo and other parts of the country.
"It is unfortunate that this is going on in our land, we want something to be quickly done as soon as possible so that Nigerians can know peace because people are being swallowed by cattle in the land.
"We even learned that there might be some international connections to it, we don't know anything about that all we want is for it to stop so that our people can know peace again.
"Nigerians cherish their comfort and a peaceful environment so much; so we are charging those of you at the helm of affairs in the country to do everything humanly possible to guarantee peace for Nigerians.
The Governor of Osun, Ogbeni Rauf Aregbesola, while responding to the request of the traditional rulers, disclosed that efforts are in top gear to eliminate all forms of insecurity in the country.
His words: "I want to assure that government is not folding its arms as to the security situation in the country, we are pained about what is going on and I want you to know that the last National Executive Council meeting was devoted to discussing a way out of the current security challenge in the country.
"The act is criminal and lawless and we condemn it in its entirety. I want us to begin to see it beyond just farmers and herdsmen clash but a monster that shouldn't be allowed to grow."
The Ooni of Ife, Oba Adeyeye Enitan Ogunwusi, who also  expressed joy with the visit of Oba Ewuare II, harped on community policing as a potent measure for enhancement of national security noted that Benin and Ife people were brothers, describing the visit as homecoming.
Today, it is evident that we have made another history of our common ancestry and cultural heritage through this visit. It shows that Yoruba are one and united, irrespective of place and location because there is no joy as a joy of one's origin, which we have felt through this visit," he stated.
The Ooni called on traditional rulers nationwide to work for the enhancement of national unity and security.