$496m Unauthorized Withdrawal and Keyamo's "Doctrine of Necessity"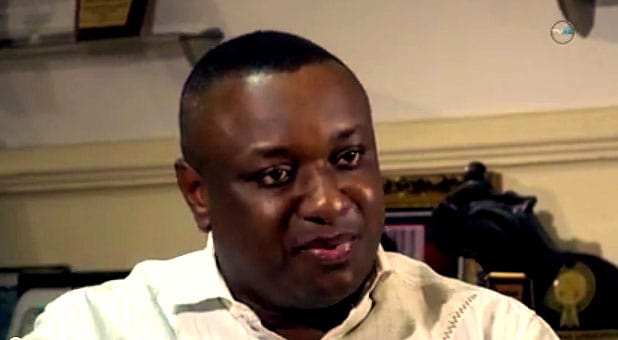 By Festus Ogun
Today, Festus Keyamo, SAN has defended his paymaster, President Buhari on the unauthorized withdrawal of $496 million from the Excess Crude Account without legislative approval. He argued that the unconstitutional withdrawal of the huge sum of money from our national treasury is precipitated on the ground of necessity, the doctrine of necessity.
First, it is prima facie clear that the President has acted unconstitutionally and illegally by yanking out from our treasury without legislative approval. Section 59 of the 1999 Constitution, which is so clear and apparent, makes proper provision to this effect. This is not contestable. What the President has done is an affront to democracy and can be best described as the height of executive lawlessness and arrogance.
Festus Keyamo however felt all our views are far from correct, that his paymaster action is legal and lawful. Frankly, I have a strong feeling of pity, fear and disappointment for this to come from a revered senior lawyer in the country whom an average Nigerian presumes to know much about our laws.
But, can we say Keyamo is ignorant of the true position of law? Or can we say he knows the true position but deliberately using the doctrine of necessity as a shield to protect his lawless master?
Before we get misled, the doctrine of necessity is not applicable in this situation. It cannot be a defence to unconstitutionality. As propounded by Bracton, a medieval jurist, the doctrine of necessity is the basis on which extra-legal actions by state actors, which are designed to restore order, are found to be constitutional. The country is in no rush to get the aircrafts; which itself will not put an end to the killings and bloodletting. Besides, they are set to be delivered in 2020. About 2 years from now. What Keyamo sees as a "necessity" (delivered in 2 years time), can still the same way be sent to the National Assembly for approval since the delivery date is post election and not too pressing and urgent. President Buhari's self approval is therefore unnecessary and falls not under the doctrine.
I am fearful with the way we become very economical with the truth in defending our Messiah. The law should not be twisted and diffused just to score cheap defence points. Keyamo turned logic upside down with this defence. Citing examples of OBJ and others is equally unacceptable. Two wrongs will not make a right.
Buhari is wrong on this. He acted ultra vires. He should be appropriately sanctioned and tender apology to Nigerians for abuse of office.
Truth is a scarce commodity in Nigeria. Let's call a spade its real name and heaven will not fall.
Lest I forget, is Festus Keyamo, SAN still a human rights activist?
Festus Ogun is an OOU law undergraduate, civil rights activist an advocate of good governance . Contact him via [email protected]
Source: Naija News