North And South Korea Hold Historic Summit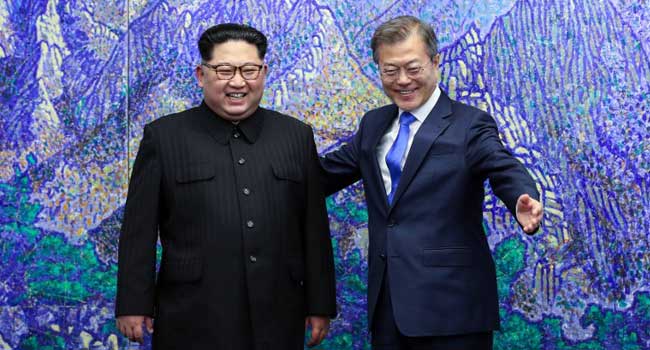 Korean Leaders Aim To Complete Denuclearisation After Historic Summit
North Korean leader Kim Jong Un and South Korean President Moon Jae-in  held a landmark summit today after a highly symbolic handshake over the Military Demarcation Line that divides their countries.
Naija News learnt that the two leaders also announced they would work with the United States and China this year to declare an official end to the 1950s Korean war and seek an agreement to establish "permanent" and "solid" peace in its place.
The declaration included promises to pursue phased military arms reduction, cease hostile acts, transform their fortified border into a peace zone, and seek multilateral talks with other countries including the United States.
"The two leaders declare before our people of 80 million and the entire world there will be no more war on the Korean peninsula and a new age of peace has begun," the declaration said.
"South and North Korea affirmed their shared objective of achieving a nuclear-free Korean Peninsula through complete denuclearisation," said the declaration signed by the leaders of the two Koreas.
They shared the view that the recent steps that the North has taken are "very meaningful" and "important" for denuclearisation efforts and agreed to do their respective part on that matter, the declaration said.
They also agreed to induce support and cooperation from the international community for the sake of denuclearisation of the Korean Peninsula.
The agreement on the nuclear issue comes as North Korea and the United States are expected to hold an unprecedented summit either in May or early June. Denuclearisation will likely top the agenda during the talks between Kim and U.S. President Donald Trump.
The U.S. and South Korea have demanded the North give up its nuclear weapons in a complete, verifiable and irreversible manner. The North recently suggested "phased and synchronised" measures for denuclearisation.
Kim who was "filled with emotion" after stepping over the concrete blocks, making him the first North Korean leader to set foot in the South since the Korean War ended in an armistice 65 years ago said I came here determined to send a starting signal at the threshold of a new history,"
Scenes of Moon and Kim joking and walking together marked a striking contrast to last year's barrage of North Korean missile tests and its largest ever nuclear test that led to sweeping international sanctions and fears of a fresh conflict on the Korean peninsula.