2019: Wole Soyinka Warns Nigerian Youths To Vote Carefully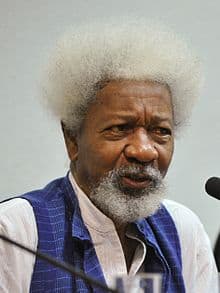 Wole Soyinka Asks Nigerian Youths To Mobilize Their Representatives Into Politics
Nobel laureate, Wole Soyinka, has ahead of the 2019 general elections in the country, called on Nigerian youths to mobilise themselves and get representatives in politics.
Speaking with journalists after delivering a lecture at the convocation ceremony of the Elizade University, Ondo state, on Thursday, Soyinka asked the youth to be wary of the "failure" of the previous generation.
He also advised them against making mistakes of those "pretending" they have nothing to do amid Nigeria's challenges.
"I am warning youths against making mistakes this time. Mobilize and get your representatives and stop bothering geriatrics like myself," he said.
"All I can just tell you is this, don't make the mistake of following those who failed you before; those who are pretending that they have nothing to do with the disaster that has overtaken Nigerian.
"They are very quick to smell failure, they are very quick to shout it; but then, they exonorate themselves, whereas they are the founding malfeasance of the Nigerian condition."
In his lecture titled 'Tending the tree of commencement', Soyinka said Nigeria must pay attention to the training and welfare of teachers.
"Teaching is difficult today, if the teachers are not well paid, they will be looking for something else to do," he said.
"If you want education to be improved in Nigeria, there should be more funding, more money to provide conducive environment; more money for training of teachers."