Policeman Allegedly Rapes, Tortures, Impregnates 16-Year-Old Girl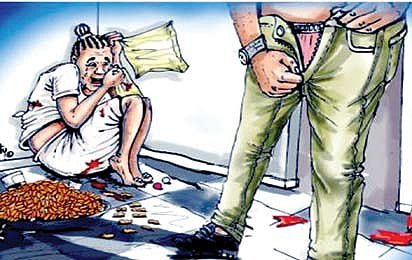 Family Says The Girl Has Been Forced To Take Refuge In The Village
One Officer Henry, a policeman attached to Ojo Division, Lagos State Police Command, has allegedly abducted, raped, tortured a 16-year-old girl (name withheld) and impregnated her.
The family of the girl petitioned the Inspector General of Police, Ibrahim Idris, to investigate the matter, after they noted that she has since given birth to a baby five month ago, and was forced to relocate to her village in Anambra State over police harassment.
Narrating how it happened, the victim's elder sister, Chukwudumaga Obadike, said: "On May 8, 2017, I discovered that my 16-year-old younger sister was missing. Later that evening, we reported it at Ajangbadi police station in Lagos.
"However, two months after, to our surprise, on July 10, I was arrested by policemen from Ojo Division, that my sister, whom I had declared missing, was wanted at the station for allegedly stealing N1.5 million from one of their officers identified as Officer Henry. I told them that we were looking for her and had declared her missing.
"The policemen went to Ajangbadi police station with me to ascertain if truly I reported her missing.
They wanted to lock me up but I resisted. They later released me by 11 pm and told us to report at the station the following day."
Chukwudumaga said they were able to get the sister in their village and brought her to Lagos.
She said: "My sister said Officer Henry met her on her way home the day she went missing and took her to a hotel where he raped her. She said Officer Henry abducted her, kept her in his house and his wife was using her as a maid and Officer Henry would rape her anytime his wife was not at home."
However, when the Officer in Charge of SARS Ikeja, CSP Mohammed Sanusi was contacted, he denied the allegation, saying: "I do not allow underaged persons to be detained in SARS cell under my watch. Maybe, they were doing that before I came but since I came here, no underaged person has been detained."