Atiku Reveal Plans For Nigeria If Elected President In 2019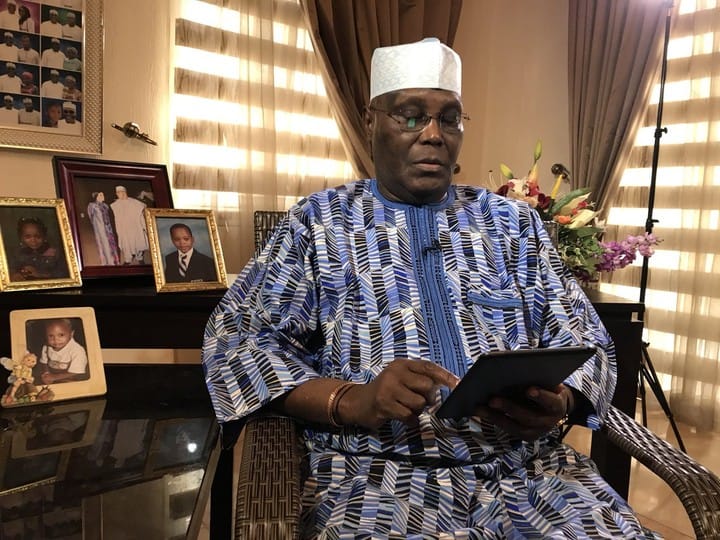 Atiku Reveals His Plans For Nigeria If Elected As President in 2019
Former Vice President Atiku Abubakar, has on Wednesday, revealed his plans for Nigeria if elected as president in the 2019 election, saying that he will offer states a matching grant of $250 million each to challenge them to enhance their internally generated revenue.
In a lecture titled "The Importance of Strengthening State Economic Management Systems," at the Chatham House in London, he outlined his agenda, reiterating his call for the restructuring of the country not just by constitutional tweaks but the cultural revolution.
He also spoke of plans to improve the operational efficiency of revenue generating agencies as well as the economy at large.
The chieftain of the Peoples Democratic Party (PDP) said,  "Beyond institutional and administrative reforms to improve operational efficiency of the revenue agencies the federating units will be challenged to double their efforts in rebuilding the fiscal-social contract, by enhancing service delivery in key areas such as health, education, water supply and infrastructural development.
"Only this would change the predominant perception that government revenues are diverted to the private bank accounts of politicians and their cronies.
"And it is for the purpose of making states lose their addiction to federal allocation, to make them look inwards, and return to the healthy competition of 1957-1966, when Nigeria practiced her unique brand of true federalism known as regionalism, that I suggest the introduction of matching grants to states, that have succeeded in increasing their internally generated revenue.
"My idea is for the introduction of Matching Grants to be taken from the revenue accruable to the Federal Government for the purpose of matching the Internally Generated Revenue of each state in order to encourage states to become self-reliant.
"If I have my way, the Federal Government will match state's IGR up to $250 million per state.
Even with this policy, the Federal Government will continue to offer support (in the form of intervention programmes) for states that rank below the average development index, until such a time as they are able to become self-sufficient and sustaining."
Atiku noted the inequity in the distribution of federal allocation among the tiers of government in favour of the federal government while also regretting that states have become addicted to monthly federal allocation.
He said the states have therefore been reduced to federal parastatals, a situation which he said must be corrected through restructuring.
Atiku also added: "In talking about the Importance of Strengthening State Economic Management Systems, we must identify the structural defects in Nigeria's federal structure that prevents all levels of the Nigerian government, federal, states and local governments, from operating at optimal levels.
"After nineteen years of uninterrupted democracy in the fourth republic, it is now an indisputable fact that today's Nigerian states essentially have been reduced to parastatals of the Federal Government and are addicted to the monthly allocation they receive from Abuja.
We must undertake far reaching economic reforms to attract private resources, including financial resources and build bigger, stronger and more dynamic sub-national economies.
"We must expand the frontier of private sector activity beyond the realm of the oil sector and build a new Nigeria without oil."
He also regretted that after their previous administration had wiped clean Nigeria's foreign debt, it has again piled up by today.
"After paying off a monumental debt accumulated by previous governments, then President Olusegun Obasanjo on April 22, 2006, said, "Nigeria will not owe anybody one kobo".
"Today, almost exactly 12 years to the day, you can almost say 'Nigeria is now owing everybody more than one kobo'.
"What happened in the intervening years to turn the dream that our administration had, into this present reality where Nigeria now owes double what we paid off in 2006?"
Speaking more about what he would do, he said "There is no alternative to a policy which promotes the growth and diversification of the sub-national economies.