Offa Robbery: Employees Sacked By Bank Over CCTV Footage Leakage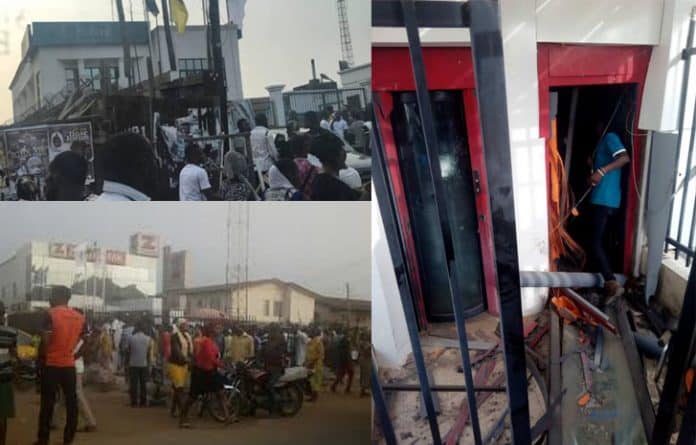 Bank Sacks Workers For Releasing Robbery Footage To The Public
Five workers has been reportedly sacked by the management of one of the commercial banks that was attacked in the Offa Robbery, Kwara State, for leaking the Closed Circuit Television (CCTV) footage of the robbery to the public.
Naija News gathered that the management had seen the act of releasing the footage without official approval as a "gross indiscipline," which could affect the image and security of the bank.
We had earlier reported the robbery which took place on Thursday, April 5, which saw five banks in Offa, Kwara State robbed and leading to the killing of many residents, including policemen, bank workers and passersby.
Report had it that the robbers made away with millions of naira as they took over those banks for almost an hour without experiencing any challenge from security agents.
Mr. Ado Lawan, the state Commissioner of Police, who released a statement on the robbery stated that the number of causality were 17, and also said nine policemen died during the attack.
Wasiu Adepoju, the Operations Commander, Vigilance Group of Nigeria, Offa, Kwara State chapter, had a countering report about the robbery and said the vigilantes in the state counted 50 dead bodies.
The CCTV footage shortly after the robbery made it way on the net, revealing how the robbers entered one of the banks and this led to the management of the bank sacking five of its workers last Friday.
Mr. Ajayi Okasanmi, the Kwara State Police Public Relations Officer, said the Nigeria Police Force would bring to book anybody that is linked to the robbery.
Recall that Naija News reported the arrest of hotel workers and the management which was reported to have accommodated the robbers before the robbery and they have been arraigned in the court.
Okasanmi spoke in response to reports that the Divisional Crime Officer and the Divisional Police Officer of the Offa Police Station allegedly failed to take necessary actions before the robbers attacked.
It was also said that the robbers only collected the phones of the DPO and the DCO and allowed them to escape. The P.R.O in further statement said any uniform personnel found guilty will not go without been judged.
While saying that investigation was ongoing, he noted that the police were determined to get to the root of "persistent robberies" in Offa.
"Whether civilian or police, whoever is found culpable would be dealt with accordingly," he added.