My House Under Police Siege – Senator Melaye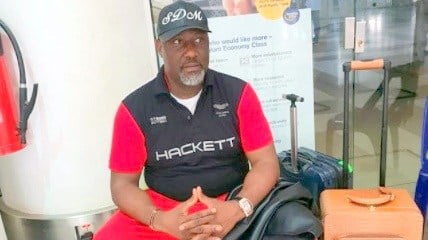 The senator representing Kogi West, Dino Melaye, have alleged that the Police have laid siege on his home in Abuja after being released some few hours after his arrest at the Nnamdi Azikiwe International Airport.
Melaye, who was dressed in dapper T-shirt, Face cap, red trousers and red shoe, was prevented from boarding a Morocco-bound flight at the airport by Nigerian Immigration officials.
"Over 30 heavily armed fierce looking mobile police men have just stormed My residence in Maitama, Abuja", he tweeted.
"All roads leading to House has been condoned off, as heavy mobile police men blocked entry & exit of the road. They currently laid siege on in and around The house", he said
Police are yet to speak on the latest development, however, The NIS confirmed responsibility for Mr Melaye's arrest.
Dino has claimed that he was on an assignment in Morocco when he was apprehended.
It is not surprising that Melaye was arrested as he was declared wanted in March for in connection with his alleged supply of arms to some thugs.
After Melaye shunned a police order to appear in a Lokoja court on March 28, the two suspects to be tried along with him disappeared from police cell.
Naija News recalls that the spokesman of the Nigerian Police had paraded the suspects in Lokoja the Kogi state Capital.
The suspects are; Kabiru Seidu, 31, alias Osama, Nuhu Salisu, 25, alias small, Musa Mohammed, 27, alias Iko and Emmanuel Audu, 26.