35 Year Old Man Remanded In Kirikiri Prison For Sexually Molesting 11 year Old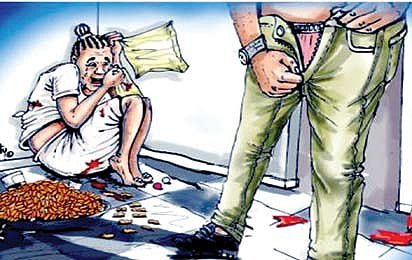 35 year Old Driver Fingers 11- year Old Girl
A 35-year-old driver, Isaac Obasi, who allegedly assaulted an 11-year-old girl sexually, has been remanded at Kirikiri Prisons on the orders of an Ikeja Magistrates' Court in Lagos.
Magistrate, Mrs B.O. Osunsanmi, on  Monday, said he should be kept behind bars pending advice from the State Director of Public Prosecutions (DPP).
The accused, who resides at Ilasamaja area of Lagos, is being tried for indecent treatment of a child.
The Prosecutor, ASP Ezekiel Ayorinde, told the court that the accused committed the offence sometime in January at his residence.
He said the accused allegedly assaulted the girl by fingering her private parts.
"The accused called the girl into his room, but she refused and he had dragged her inside the room.
"He started touching and sucking her breasts and also inserted his fingers in the girl's private parts.
"The girl shouted and he quickly covered her mouth and threatened to kill her if she continues to shout," he said.
Ayorinde alleged that the accused was about to insert his sexual organ in the girl's private parts when he heard the voice of the girl's mother.
"The accused stopped when he noticed that the girl's mother had returned. He gave her N50 to buy biscuits and warned her not to tell her mother.
"But the mother noticed the way her daughter was walking and questioned her. She told her mother what the accused did to her."
The offence contravened Section 135 of the Criminal Law of Lagos State, 2015 (Revised), and also prescribes seven years imprisonment for indecent treatment of a child.
Naijanews learnt  case  has been adjourned until June 11 for mention.