Shiites Planning Fresh Protests In Abuja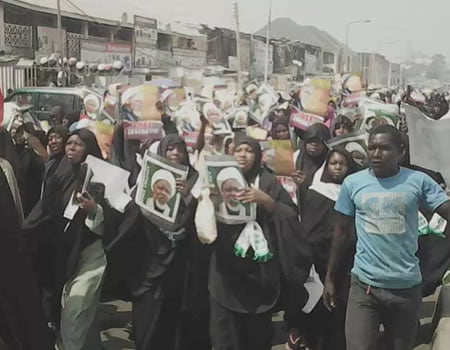 Shiites Threaten Fresh Protests In Abuja
Members of the Islamic Movement of Nigeria, also known as Shiites, have reportedly threatened to carry out fresh protests in Abuja, the nation's capital city, as they continue to demand the release of their leader, Ibrahim El-Zakzaky.
To this end, an alert being circulated via text messages, WhatsApp and other social media platforms has been making rounds since Thursday evening, advising  residents to be wary of places they visit today, particularly during the Friday Jumat prayers.
According to the warning,  "residents and visitors alike are to avoid places like Banex Plaza on Aminu Kano Crescent, Wuse II and Friday Prayer Mosques.
The security alert reads:
"We are monitoring reports that the Islamic Movement in Nigeria (IMN) at about 4pm on 19 April, 2018 is planning to converge in the vicinity of Banex Plaza on Aminu Kano Crescent, Wuse II Abuja. The IMN is also planning what it describes as a mega outing on Friday 20 April, 2018.
"This outing will target the National Mosque, Area 11 Mosque and Yoruba Mosque in Wuse II. These protests are to demand the release of the IMN detained leader, Ibrahim El-Zakzaky and his wife, who have been government detention since December 2015.
"Staff in Abuja should:
"Avoid the locations of the protest as a precaution. Plan routes bypassing these locations,
However, when contacted, the FCT police public relations officer Anjuguri Manzah, said he was not aware of any such security threat.
Naija News recalls that a recent clash occurred between security operatives and the Islamic sect in Abuja, who have vowed to continue to stage protests to demand the release of their leader from government custody where he has been since 2015.