Just In: Unknown Soldiers Allegedly Set Benue Community on Fire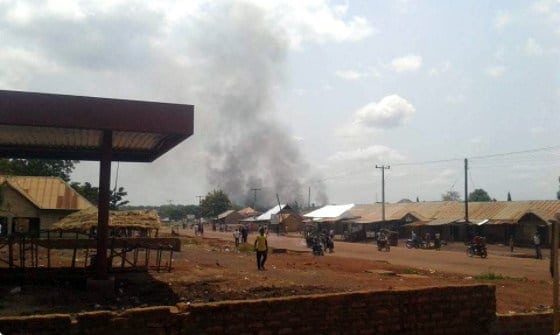 Rampaging soldiers set Benue community on fire
Some persons suspected to be Nigerian soldiers stormed a community in Benue State and set houses ablaze, Naija News Understands .
Naija News Learnt that the  hoodlums stormed Naka, the seat of Gwer West Local Government Area, at about 11:00 a.m. and began burning houses to the apprehension of residents,
The Chairman of the local government Area , Gwer West Local Government Area,Francis Ayagah who also confirmed the event on Thursday afternoon.
Details of the incident were still murky as at 2:48 p.m., and Mr Ayagah could not immediately confirm casualty figures, if there were any.
But he said the 'soldiers' were on a reprisal attack over the killing of one of their colleagues near the community on Wednesday.
"A soldier was killed by hoodlums yesterday, but I met with the brigade commander around 4:30 a.m. today," Mr Ayagah said of the possible motive of the arsonists. "He gave me a list of suspects and we arrested five of them overnight. It was while we trying to take them to the brigade that soldiers stormed the town and started burning houses."
"A whole part of the town has been completely burnt down and we're appealing for help and understanding from the soldiers," he added.
The troops were said to have spent over two hours burning down properties in Naka, which is about 45 kilometres from Makurdi, the state capital. Mr Ayagah said homes of citizens were mostly affected rather than those of the suspected killers of the slain soldier.
Nigerian Army spokesperson, Texas Chukwu, and Defence spokesperson, John Agim, however denied knowledge of any report been received about the incident.
The Nigerian Army has ended 'Exercise Ayem Akpatuma' in which troops were drafted to combat gunmen who have killed hundreds of villagers in the state since January. Gwer West was attacked a little over a week ago with over 25 people reportedly killed.
The 'soldiers' on rampage today are believed to be amongst those embedded with mobile police officers in 'Operation Zenda'.