Thug Invasion Of National Assembly Shows Buhari's Govt Is Broken – Secondus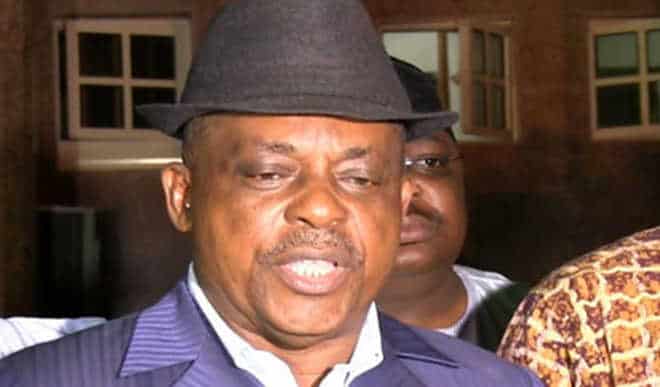 PDP National Chairman, Uche Secondus Reacts To Missing Mace In The Senate
The National Chairman of the Peoples Democratic Party, Prince Uche Secondus has described the recent invasion of the senate by hoodlums as insensitivity of the All Progressives Congress to the security issue in the country.
Secondus made the submission in a statement while preparing for his flight from Akure Airport to Ekiti state.
He said all the political movements going on currently in the country were targeted at removing President Muhammadu Buhari from office in the 2019 Presidential election.
He said, "We are all Nigerians, I believe that all the forces are working together for the interest of this nation and at this point, we believe that the movements are for the interest of all Nigerians. The move is to rescue Nigeria from the crisis we have found ourselves
"A few minutes ago, in the Senate of the Federal Republic of Nigeria, we were informed that hoodlums forced their ways into the Senate chamber and carted away the mace. What that means is that the country is totally broken. The APC government is totally broken, there is insecurity all over the country – from the North to the East to West, people are dying on daily basis.
"So all the forces are for the interest of the country. Nigerian people are tired of the Buhari's government.
Secondus who arrived Akure in company of other leaders of the party said that the APC government has performed woefully and the PDP was now ready to take over power.
"The Dickson (reconciliation) committee has been doing very tremendous jobs and the reconciliation has been very successful. So far so good the people are happy now in the party . You can see the rallies in Jigawa and Katsina States and all over the country, the PDP is rebranded and repositioned to regain the power in 2019.
Recall Naija News, in earlier reports, published the invasion of the senate floor of the National Assembly by hoodlums who carted away the mace, and subsequent events that have followed, including the arrest of suspended Senator, Ovie Omo-Agege, who is accused of been behind the activities of the hoodlums.