Nurses, Pharmacists, Others Declare Indefinite Strike At Federal Hospitals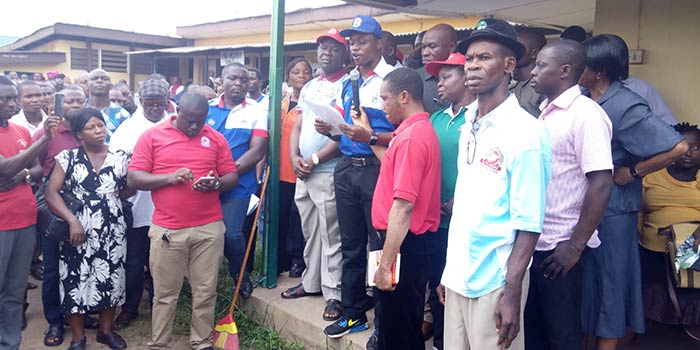 JOHESU Members Declare Indefinite Strike
Nurses, pharmacists, medical laboratory scientists and other health workers under the umbrella of the Joint Health Section Unions, (JOHESU) in Federal Government owned hospitals across the country have begun an indefinite strike.
Naija News had earlier reported on plans by the health workers to go on strike, threatening to disrupt every medical facilities in the country.
The workers said on Wednesday morning they had to resort to the strike to press home their demands because the FG had refused to act on the agreements reached with them when they suspended their last strike on the same issue of adjustment of Consolidate Health Salary Structure and payment of arrears of CONHESS 10 over six months ago.
Dr. Obinna Ogbonna, the National Vice Chairman of JOHESU, declared the strike after an in house meeting with the union at the Obafemi Awolowo University Teaching Hospital Complex, Ile Ife,
The JOHESU official, stated that it was painful that while the FG had implemented the salary structure for medical doctors, other members of the unions had been neglected since 2009.
Apart from the upward adjustment of CONHESS, he said the government had also failed to employ additional health professionals, upwardly review of retirement age from 60 years to 65 and failure to implement a particular court judgment.
He further stated that the union had earlier given the federal government a 21-day ultimatum which yielded no result after the agreement of the FG was not implemented.
He said, "Consequent upon this, therefore, JOHESU has no other choice than to proceed on an indefinite nationwide strike as from the midnight of Tuesday 17th April, 2018, which is the spiraling of the notice of strike.
"Therefore, JOHESU hereby directs all her her members in Federal Health Institutions all over the country to commence the strike immediately ( midnight of Tuesday, 17th April , 2018 ) unfailingly."
"States and Local Government Health Institutions are by this placed on red alert and are to continue intense sensitisation and mobilisation of our members for possible entry into the fray if the government foot drags in attending to our demands."