Senate Summons Ministers Over $462M Purchase Of Helicopters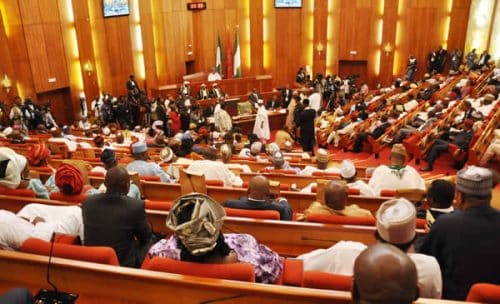 Senate Summons Emefiele, Adeosun, other over $462m
The Senate has summoned the Minister of Defence Mansur Dan Ali, Governor of the Central Bank of Nigeria, Godwin Emefiele and the Minister of Finance, Kemi Adeosun to appear before its  Committee on Appropriation.
Naija  News learnt Adeosun and her colleagues were summoned before the Upper Chamber to explain why 462 million dollars was released for the purchase of helicopters by the Federal Government without its approval.
The government officials are to appear before the senate committee which has been given a one-week deadline to present their findings to the Senate.
The summon is coming after a lawmaker Senator Samuel Anyanwu, at plenary drew the attention of the Senate to the alleged expenditure of 462 million dollars by the Federal Government for the purchase of helicopters.
Anyanwu said, "I have it on good authority that in March 2018, from the Federation Account, a whopping sum of $462m was withdrawn and paid for (the purchase of) helicopters to an American firm. And this is without the approval of the National Assembly or the Senate.
"I know that there was no time when there was any request (for approval) from this Senate before any withdrawal from the Consolidated Federation Account.
"I, therefore, as a senator, want us to find out if that thing (withdrawal) was done.
"I will request and suggest we invite the CBN governor, the Minister of Finance and the Minister of Defence to tell us how this money was withdrawn and paid to an American company — a whopping $462m — without the approval of this Senate."
Deputy President of the Senate, Ike Ekweremadu, who presided over the plenary, put the request to voice vote and it was unanimously granted.
Ekweremadu referred the matter to the Committee on Appropriations, asking it to invite the ministers and the CBN governor.
"The Appropriations Committee should invite the three: the Minister of Finance, the CBN governor and the Minister of Defence to shed light on the release," he said