EFCC Accuses Secondus Of Collecting N250m From Dasuki For Special Duties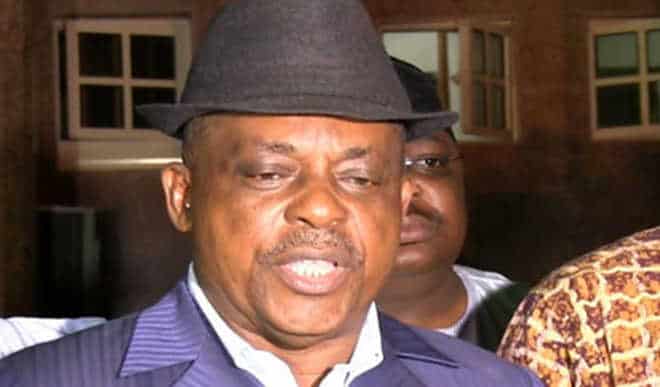 Secondus Collected N250m From Dasuki For Special Duties —EFCC
The Economic and Financial Crimes Commission (EFCC) has accused the Chairman of the Peoples Democratic Party, Uche Secondus, of receiving N250m from the Office of the former National Security Adviser, Col. Sambo Dasuki (retd)
Naija News learnt that this was revealed in a report released by the anti-graft agency.
The report stated that Secondus allegedly received the money during the build-up to the 2015 general elections. Secondus, who was the Deputy Chairman (South) of the PDP at the time, allegedly collected the money for 'special duties.'
The report partly read, "Uche Secondus received N200m in cash from the ONSA with voucher 0244. His Special Adviser, one Chukwurah, signed for the money on his behalf on February 2, 2015. Earlier, he had collected N50m which was personally received by him on November 7, 2014.
"The funds were approved by Col. Sambo Dasuki (retd.) for unknown reasons but were merely referred to as 'special duties."
The report also accused Secondus and former Chairman of the PDP, Alhaji Adamu Mu'azu, as well as the lawmaker representing Akwa Ibom North-East Senatorial District, Senator Bassey Akpan, of receiving vehicles worth about N1.1bn from Babajide Omokore, an oil magnate standing trial before a Federal High Court in Abuja.
The report added, "Adamu Mu'azu received vehicles worth N504, 500, 000 including a Benz G63 worth N45m between May and August 2014.
"Secondus received vehicles worth N310m. On June 28, 2013, he received a Benz G63 worth N36m; on April 8, 2014, he received two Toyota Hilux vehicles worth N14m. On July 8, 2014, he received 10 Hiace buses worth N90m while on November 13, 2014, he received 15 Hiace mid-roof buses worth N120m. He also received a N50m Range Rover Biography SUV."
But in his reaction to the issue, Secondus has described the claim by the anti-graft agency as a blackmail and a continuation of what he described as media trial. He said there were plans to blackmail and discredit the main opposition party and its leadership. He however said the plan would not work.
Secondus, who spoke through his media aide, Mr. Ike Abonyi, asked the agency or anyone with proof of the allegations to come to court.
Abonyi said, "Secondus is already in court on this matter and that is all. It is a continuation of media trial and blackmail."
"He has said he did not collect any money and he had challenged anyone with contrary proof to meet him in court and testify against him."
"There's no need to be talking about a case pending in court in the newspapers. If the government has anything to say, they should file it before the court as demanded."
Secondus also challenged the government to come out with the vouchers with which he was said to have signed, adding that such signature would also be subjected to forensic analysis.
He said, "I never collected any money from anywhere. I didn't ask anyone to collect money for me as well and I didn't sign any voucher to collect any money.
"It is pure blackmail which will never work. I have gone to court and I expect them to challenge me in court and come and testify against me.
"If they are cooking up anything, with the aim of blackmailing me, it will fail."
"I know that the task of uprooting this non-performing government would be horrendous. But God is always on the side of the people."