I Have Unfinished Duties In Ekiti Government House – Fayemi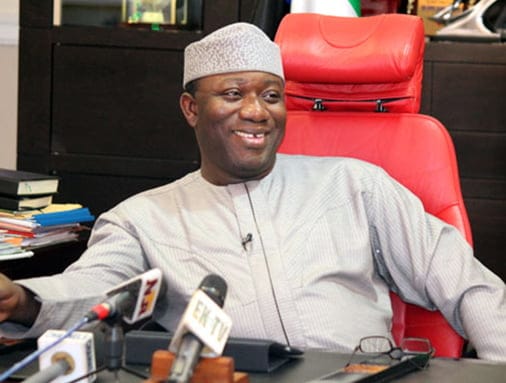 We Need To Reclaim Our land And Restore Our Value – Fayemi
Dr. Kayode Fayemi, former Ekiti State governor, and the present Minister of Solid Minerals Development has stated the reason behind him seeking for the governorship seat of the state on the platform the All Progressives Congress.
Naija News had earlier reported the interest of the minister to run in the Ekiti Governorship election.
Fayemi in a news conference at Isan-Ekiti his country home in Oye Local Government Area of the state, said he was moved to win back the mandate of the Ekiti People because of his positive achievements, especially for workers, retirees and pensioners while in office in the state.
The Minister of Mines and Steel Development at a declaration ceremony attended by a large crowd in Ado Ekiti on Saturday, said he had unfinished business in the Government House.
Fayemi said, "You remember the June 21, 2014 election, which was transparent. This time around, we will have a transparent, free and fair election, genuine and authentic election.
"They have been saying we want to use federal might; whether it is bottom power, middle level or top power, all I know is power belongs to God and he gives it to whomever he gives."
Fayemi was received at the APC secretariat in Ajilosun by the state executives of the APC, led by the Deputy Chairman, Mrs. Kemi Olaleye, before proceeding to a mega rally to address his supporters.
The event led to a traffic jam at the ever-busy Ado-Ikere-Akure Road. The minister became the 37th among the aspirants that have shown interest in the seat on the APC platform.
Fayemi said, "We will ensure he ends up in jail. That's the least that can happen to him. It's time to tighten our belts."
Also addressing party leaders and supporters, Fayemi said the APC would work tirelessly to dethrone the PDP in the state.
He said, "We will use local, state and federal power to take over Ekiti from a rapacious government being run by a brigand in Ekiti.
"Those of us who travelled out of Ekiti are being insulted, assaulted and mocked on a daily basis, with people asking why Ekiti indigenes, which they thought were well read, refined and exposed, could make a character like Ayodele Fayose their governor.
"That is why it is important for us to reclaim our land and restore our values. Each time I move round Ekiti, I see the pains on the faces of the 25,000 elderly persons who benefited from our social security scheme; 600 people who were employed into the peace corps; 10,000 volunteers who took N10,000 per month, among others but have been cut off from these safety nets by Fayose.
"More than 40,000 persons, who were gainfully employed by my government, have been engaged by this present government in Ekiti.
"Under my government, I increased the salary of workers from N5,000 to N7,000 and from N7,000 to N13,000 and later N19,300. Who will the workers hate between a government that did these and one that has not been paying salaries for more than 10 months?
"They said teachers didn't like Fayemi. During my time, education was free up to SSS 3. I paid rural allowance to teachers, core subjects' allowance, paid scholarship and bursary, paid for WAEC and NECO, but all these have been stopped by a government that has no interest in social investment.
"Today, I can boldly say there is no town I get to out of the 133 towns and villages in our dear state where I will not point to five projects. If I had not done their roads, I would have built schools, or renovated their hospitals, but today, nothing is happening.
"Even those projects I did not complete were abandoned by Fayose. There is no single aspirant in APC who will not do more fantastic works than what we are getting in Ekiti under Fayose among all the aspirants on the APC platform.
"That is why it is important for us to be united. Let me say this, I am a loyal party man and I am ready to support whoever the party fields as the candidate."