Buhari, EFCC, Lai Mohammed In New Looters List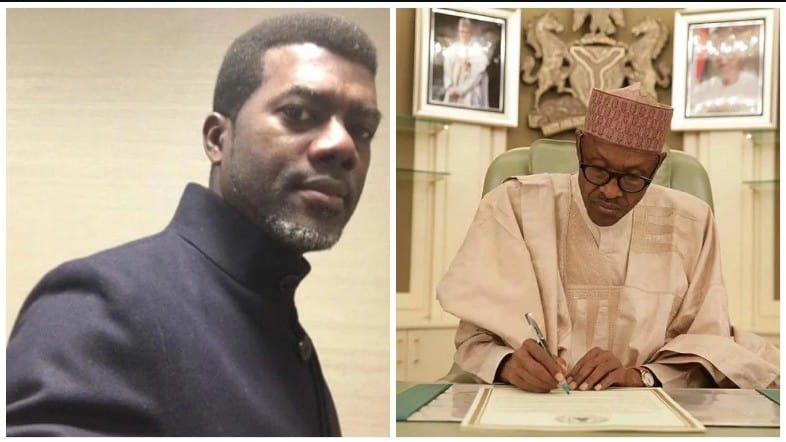 Omokri Names Buhari, EFCC, Lai Mohammed In His Own Version Of Looters List
Ex-President, Goodluck Jonathan's spokesperson, Reno Omokri, has named President Muhammadu Buhari, the Economic and Financial Crimes Commission (EFCC), and Minister of Information, Lai Mohammed in his own version of looters list.
The new list is an update on the one he released two weeks ago where he listed alleged looters in President Buhari's cabinet as well as members of the ruling All Progressives' Congress (APC).
This, is in response to the federal government's earlier list which listed some People's Democratic Party (PDP) members as been responsible for looting the nation's treasury.
The new list by Omokri, fingers Lai Mohammed, Osun state governor, Rauf Aregbesola, and Executive Secretary of the National Health Insurance Scheme, Usman Yusuf, among others.
His most sensational additions are President Buhari and the EFCC under the leadership of Ibrahim Magu whose confirmation, has been rejected by the National Assembly two separate times.
In his statement, Omokri accused President Buhari of authorizing fuel subsidy payments even though the National Assembly made no appropriations for such payments in the 2016 and 2017 budgets.
His statement reads in parts , "The #RealLootersList That President Buhari and Lai Mohammed Should Have Released.
"It was with great amusement that I received news that the minister for propaganda, the rightly and prophetically named Lai Mohammed, was planning on releasing a new looters list.
"After having been shamed at home and abroad for its one sided and fallacious list, the Buhari administration wants to redeem itself by releasing a third list, which from the look of things, will go into infamy like its two elder brothers.
"The funniest thing is that both Lai Mohammed and President Buhari's spokesman, Garba Shehu, had condemned the release of a looters list by the pioneer Economic and Financial Crimes Commission (EFCC) Chairman, Nuhu Ribadu in 2007.
"In any case, Nigerians and the international community may find the list below to be a more credible list and I call on the Economic and Financial Crimes Commission and the Independent Corrupt Practices Commission to investigate, interrogate and prosecute those contained therein, especially as I have produced details and named names, dates and amounts involved which stand at over $30 billion.
Muhammadu Buhari and His Cronies:
"December 28, 2015, President Buhari said he was ending fuel subsidy. On May 12, 2016 the minister of state for petroleum, Ibe Kachikwu, said subsidy had been removed. The price of petrol was increased on that basis to ₦145."
"On April 6, 2018, the minister of state for petroleum resources, Mr. Ibe Kachikwu revealed that ₦1.4 trillion was being spent annually on fuel subsidy payments by the Buhari administration.
"Section 162 (1) of the Constitution provides that:
"'(1) The Federation shall maintain a special account to be called "the Federation Account" into which shall be paid all revenues collected by the Government of the Federation, except the proceeds from the personal income tax of the personnel of the armed forces of the Federation, the Nigeria Police Force, the Ministry or department of government charged with responsibility for Foreign Affairs and the residents of the Federal Capital Territory, Abuja."
"Moreover, there is a Treasury Single Account policy in operation.
"If all funds belonging to the federation are remitted into the Federation Account, if all Ministries, Departments and Agencies are bound by the TSA, how is it possible for President Buhari to unconstitutionally instruct the GMD of the NNPC to use funds which were not appropriated by the National Assembly to pay for a scheme that was scrapped?
"Rauf Aregbesola: It was reported in several investigating journals that the contract to provide schools in Osun state with the tablet nick named 'Opon Imo' was awarded to a firm linked to Governor Rauf Aregbesola's son at an inflated price of ₦8.6 billion. This allegation was also made in a petition by the Civil Societies Coalition for the Emancipation of Osun state (CSCEOS).
"Usman Yusuf: Executive Secretary of the National Health Insurance Scheme. Suspended by the minister of health for allegedly misappropriating approximately ₦1 billion. A probe panel was set up by the minister of health, Isaac Adewole. Mr. Adewole found the evidence against Mr: Yusuf compelling enough to warrant his suspension.
Lai Mohammed: Currently serving as minister of information, Mr. Lai Mohammed used his office to intimidate a parastatal under his ministry to engage in unethical practices.
"Documentary evidence reveal that Mr. Mohammed was alleged to have begged his subordinates at the National Broadcasting Commission (NBC) for a 'loan' of ₦13 million to enable him travel to China, an act which is against civil service rules and against the rules of public decency.
Omokiri  also called EFCC's credibility into question, saying the anti-graft agency has been indicted by international organisations for using dirty tactics to fight the president's political enemies.
Copyright Naija News 2019.
All rights reserved. You may only share Naija News content using our sharing buttons. Send all news and press releases to
newsroom@naijanews.com
.