Super Eagles Climb Five Spots On FIFA Ranking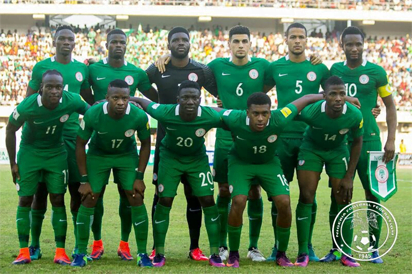 Eagles Climb Five Spot On FIFA Rankings
The Super Eagles have climb up to 47th in the world and sixth in Africa in the rankings released yesterday by world football governing body, FIFA, for the month of April. The ranking was published on FIFA's official website , Naija News Understands.
The Eagles also displaced Cameroon at sixth to trail Tunisia, Senegal, Congo DR, Morocco and Egypt who occupy the first five places in the latest FIFA rankings respectively. Tunisia's 14th spot in April global rankings is their first-ever best grade in football. Tunisia is the highest ranked African team as they occupy 14th position in the world, while Senegal and DR Congo are in 28th and 38th spots respectively.
On the other hand, there was no improvement for the Nigeria's 2018 World Cup Group D opponents as Argentina dropped one spot to fifth, Croatia dropped three places to 18th and Iceland dropped to 22nd.While Nigeria's 2019 Africa Cup of Nations Group E opponents, South Africa moved up but Libya and Seychelles dropped. South Africa rose four places to 72, while Libya and Seychelles dropped to 100th and 194th respectively.
However ,World Cup holders Germany remain number one, with Brazil in second, Belgium are third, Portugal are in fourth and Argentina fifth, Switzerland are sixth, France are in seventh, Spain in eight, Chile in ninth while Poland complete the top 10. The next Coca Cola FIFA World Ranking will be released on May 17, 2018.