Girl Raped By Father, Son In Benin Narrates Incident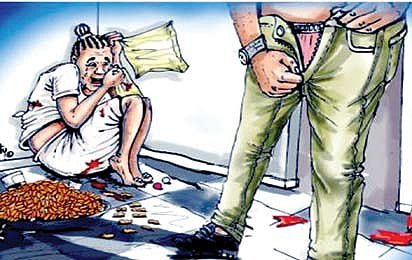 10 Year Old Girl Narrates How She Was Defiled By Father, Son In Benin
A 10-year-old girl, who was allegedly raped by a 50-year-old man, Reuben Enosegbe and and his 16-year-old son, Destiny, has narrated the incident and how she was lured.
The girl explained that they always tempted her with N20 whenever they wanted to sleep with her.
She said, "sometimes, they will even beg me to buy recharge card for them to lure me to their house."
The victim made this known when Reuben and his son, Destiny were arraigned before an Evboriaria Magistrate's Court in Benin, Edo State yesterday.
The accused, Enosegbe and Destiny, however, pleaded not guilty before Chief Magistrate Efe Akhere of Oredo Magistrate Court 3.
Their lawyer, Nicholas Omobude, pleaded for their bail, arguing that they were innocent of the crime until proven guilty.
He assured the court that the accused persons would not jump bail. He further pointed out that the second accused person was a minor, being just 16 years old, and should be granted bail.
The magistrate Akhere rejected his plea, adding that the matter will not be tried in his court.
The magistrate ordered that the first accused person be remanded at the Oko Prison, while his son, who is a minor, be kept at the Children's Remand Home, Ugbekun Quarters.