FG Committed To Prosperity Of Nigerians, Says Osinbajo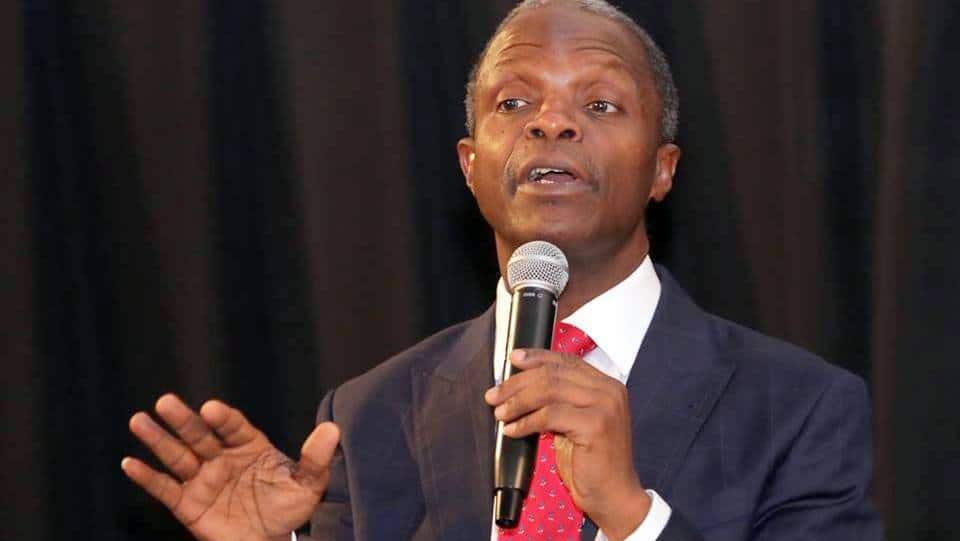 Osinbajo Says Prosperity Of Nigerians Is Our Set Goal
Vice President Yemi Osinbajo says the federal government remains committed to delivering a lasting prosperity to all Nigerians.
Professor Osinbajo said this at the Micro, Small and Medium Enterprises (MSMEs) clinic in Onitsha, the commercial capital of Anambra State.
As part of efforts to diversify the economy, he said the federal government was enhancing the efforts of the state governments to improve the living standard of the people.
"In the past three years, we have demonstrated an abiding commitment to facilitating genuine efforts by all states of the Federation to attract investment to diversify the economic base and deliver lasting prosperity to their people.
"So, the holding of this MSME clinic here today is a further demonstration of that commitment," he said.
The vice president added that the Federal Government was committed to working with Anambra to create a better life for those who live, work, and carry out their businesses in the state. He described the state as the home of the nation's commerce, saying the Onitsha market has been legendary for a very long time, given its size and its vibrancy.
Osinbajo, however, decried that MSMEs have been neglected in the country over the years, as a result of competing priorities and the tendency to discount the real contributions of the sector to the nation's economy. He stressed that while MSMEs are seen to be small, together they account for about 50 per cent of the Gross Domestic Product (GDP) and more than 80 per cent of the Nigerian labour force.
The vice president noted further that they are of decisive importance in the economy as it has become inevitable for government to look inwards to grow what Nigerians eat and consume what they make.
He explained that the MSMEs clinics were conceived in this context and were designed to bring regulatory agencies whose work affects the business experience of small businesses nearer to them.
Professor Osinbajo also revealed that the partnership between the Federal Government and Anambra is not limited to national MSMEs clinic, but also extended to other areas such as the home-grown school feeding programme.
He said both governments are already feeding more than 103,000 pupils and engaging about 1,004 cooks in several schools of at least 1,600 across the state.
The event was also attended by the state governor, Willie Obiano; the Minister of Labour and Employment, Dr Chris Ngige; and the Minister of Industry, Trade and Investment Dr Okechukwu Enelamah, among other dignitaries.