Uproar As PDP Senator Addresses Buhari As Incompetent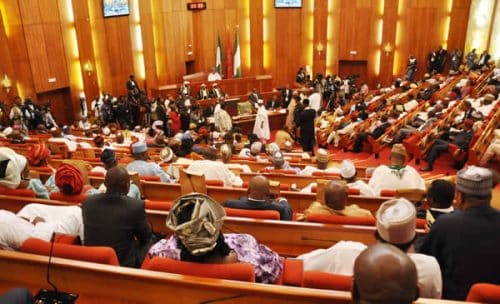 Senator Calls Buhari Incompetent On The Floor Of The Senate
There was mild drama on the floor of the senate on Thursday, after Senator Eyninaya Abaribe, a Peoples Democratic Party (PDP) from Abia state, described President Muhammadu Buhari as incompetent.
His comment led to a rowdy session in the house as other APC senators rose in defence of Mr. President.
Abaribe had moved a motion reacting to a comment made by President Buhari in UK on Wednesday, in which he blamed the clashes between farmers, herders clashes on militias trained by Muammar Gaddafi, former prime minister of Libya.
Abaribe opined that Buhari, as the commander-in-chief of Nigeria, could not protect the country from invasion.
He went further to directly address the president as "incompetent"
"Two explanations were given by highly ranked security personnel on the matter of herdsmen versus farmers clashes," he said.
"First of all, the IGP said that these killings were as a result of laws being past by states. Secondly, the defence minister said that these killings were as a result of the blockage of routes through which these herders are to move their cattle.
"And we continued to look at all these explanations. Yesterday in London, the commander-in-chief of the armed forces of Nigeria and the president of Nigeria said the killings are as a result of the people who were trained by the late Muammar Gaddafi and so implying that these people doing these killings in Nigeria are from outside Nigeria and even if he says they are invaders from outside Nigeria, what it means is that now it validates my last point on this floor.
"When a commander-in-chief cannot take care of invaders, invading Nigeria why is he still a commander-in-chief, why do we continue to indulge? Why do we continue to indulge this president that everywhere goes along to tell everyone outside this country that he is totally incompetent. Because it is obvious."
His comments made APC lawmakers challenge him, with shouts of "point of order" erupting in the chamber.
Upon return of calm in the house, Ahmed Lawan, majority leader, cited order 53 of the senate rules, calling for respect in addressing the president.
"The president of the federal republic of Nigeria is the leader of this country and deserves the respect and courtesy of this chamber and those of us in it," Lawan said.
"I was once a member of the opposition and I do not recall ever insulting the then president or insult him. This is our institution. If we do not conduct ourselves with respect, nobody will. I want to ask my colleague to immediately withdraw his statement and apologise to this chamber."
Senate President Bukola Saraki, who was presiding, thereafter cautioned Abaribe, warning him to desist from using such offensive words.
In his response, Abaribe said: "I am very well guided by you but there are words that there are no alternatives to. What I did was to interpret the words by Mr President in London. If any word I used is misunderstood by anyone, I apologise. What I am saying is simple."