10 Dead As Herdsmen Attack Two Benue Communities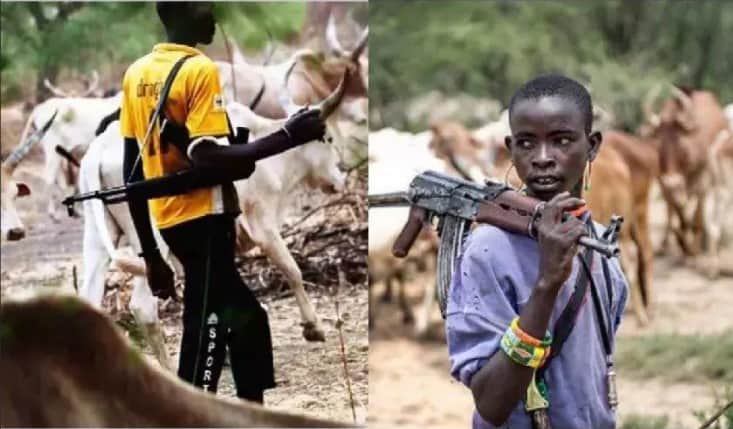 Herdsmen Launch Fresh Attacks In Benue State
At least 10 people in  Ukum local government area and Tswarev district of Logo local government area of Benue state have been killed after suspected Fulani herdsmen attacked the two communities.
Commissioner of police in the state, Fatai Owoseni said the incident occurred on Tuesday night.
He said that some corpse have been recovered, while security operatives have been sent to the area to calm the air and restore peace.
"There was an incident in Gbeji and we are investigating. There was said to be an attack by suspected herdsmen in the area but we can confirm that as at this morning (Wednesday), four dead bodies were recovered there. We have stepped up security in the area and we are investigating," he said.
Eye witnesses claimed that the herdsmen attacked and destroyed houses and injured many more people in the operation.
Richard Nyajo, chairman of Logo LGA, appealed to security agencies to do more in safeguarding lives and property.
Bogal Àbuul, principal secretary-general of the National Union of Road Transport Workers (NURTW) in the state, said the herdsmen came with sophisticated weapons and despite the presence of security operatives, they still operated unchallenged.
Naija News recalls that Samuel Ortom, governor of Benue state, had asked the people to defend themselves with stones.
On Wednesday, President Muhammadu Buhari also assured Nigerians that his government is working on solutions to the crisis between herdsmen and farmers.
He blamed the crisis on the of the influx of Pro-Gaddafi fighters from the Sahel region.
"The problem is even older than us. It has always been there, but now made worse by the influx of armed gunmen from the Sahel region into different parts of the West African sub-region," the president had said.
"These gunmen were trained and armed by Muammar Gadaffi of Libya. When he was killed, the gunmen escaped with their arms. We encountered some of them fighting with Boko Haram.
"Herdsmen that we used to know carried only sticks and maybe a cutlass to clear the way, but these ones now carry sophisticated weapons. The problem is not religious, but sociological and economic. But we are working on solutions."