NPC Laments Unemployment And Poverty Rate In Nigeria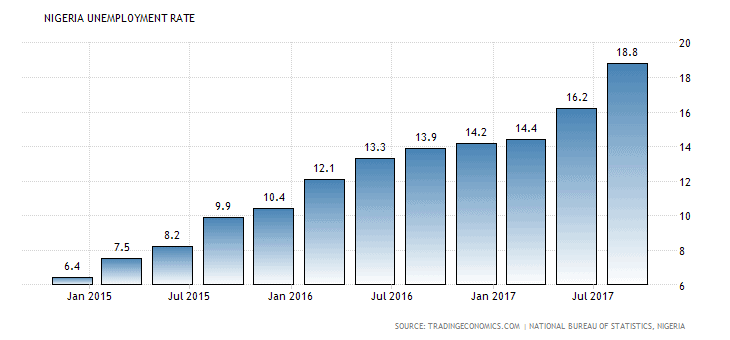 NPC Says Poverty & Unemployment  Rate In Nigeria has Increased By 18.4 Per cent
The Chairman of National Population Commission  NPC, Mr Eze Duruiheoma, has bemoaned the insecurity, inadequate and inequitable health care services for adolescents and women of child bearing age in Nigeria.
Duruiheoma, while speaking in New York yesterday at the 51st Session of Commission on Population and Development said that the  spread poverty, under-employment and unemployment has grown at an average of 18.4 Per cent.
Naija News learnt that Duruiheoma also bemoaned the increase of internally displace persons across six states of North-East Nigeria.
"The Displacement Tracking Matrix round XXI of January 2018 identified estimated 1.7 million IDPs in over 321,580 households across six states of North-East Nigeria with 40 per cent residing in camp-like settings in urban areas plus 1.4 million returnees.
"The number of IDPs represented 4.5 per cent increase compared to the 1,702,680 identified in Round XX (Dec. 2017)."
"Nigeria continues to commit to solving the challenges of insurgents in the Northeast, which has induced a high number of internally displaced persons."We acknowledge that women, children and particularly the girl child are often the most vulnerable in these displacements, and in this regard, we remain focused on the wellbeing of these vulnerable parts of our population.
"We are committed to providing adequate health care services, reducing maternal mortality, rebuilding safe schools and empowering our women, ensuring no one is left behind in terms of achieving sustainable development."
Duruiheoma said these challenges adversely impacted on the quality of life and standards of living of the urban populace.
According to him, Nigeria stays committed to the twin goals of the Habitat Agenda – adequate shelter for all and the development of sustainable human settlements in an urbanising world.
Source: Naija News