14 Injured In Fresh Borno IDP Fire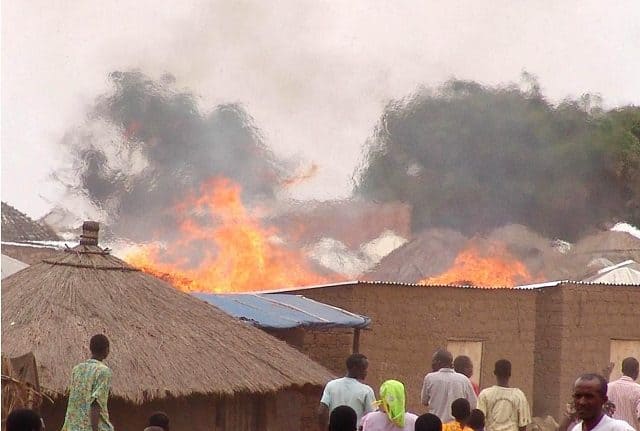 Fresh Fire Outbreak In Borno IDP Camp
A fire which broke out at one of the IDP camps in Borno state, has left at least 14 people seriously injured after sustaining various degrees of burns in the inferno.
Quoting an aid agency, Punch reports that the camp in which the fire broke out, houses tens of thousands of people displaced by Boko Haram jihadists in northeast Nigeria.
The reported fire incident, comes just two weeks after a similar blaze at the camp, located at Rann, about 175 kilometres (108 miles) east of the Borno state capital Maiduguri, killed five people.
"There have been three separate fires reported," stated a memo seen by Nigeria News from the UN Office for the Coordination of Humanitarian Affairs (OCHA) circulated among international aid agencies in Maiduguri.
"The incidents, which occurred over a number of days, resulted in "reported 14 injuries (and) estimates that over 1,000 shelters have been burned," said the memo, which blamed flying embers from "cooking of food".
Kaka Ari, a civilian militia member assisting the military in fighting Boko Haram in the town said fires had destroyed hundreds of tents in the camp which houses refugees as well as internally-displaced people.
"For three consecutive days we recorded fire outbreaks in different parts of the camp which destroyed more than a thousand," Ari said.
"People cook in the open and the breeze carries firewood splinters in all directions which end up at the tents and fire breaks out."
The IDP camp in Rann, is home to about 80,000 people and has been vulnerable to attacks from Boko Haram.
Naija News recalls that a recent attack on the camp, which led to the death of some officials, forced international aid workers to suspend their operations in the area.
They have however resumed humanitarian activities, following the restoration of relative peace in the area.