Thugs Invade Atiku's Campaign Office, Damage Vehicles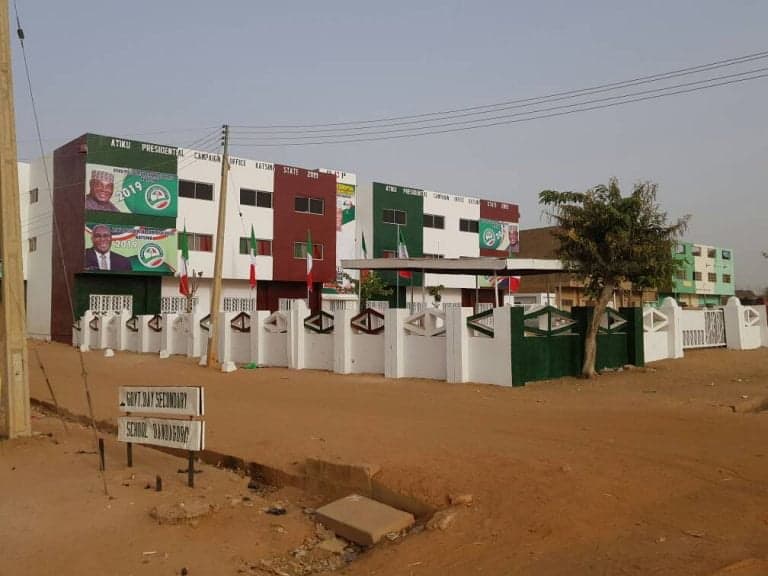 Atiku Abubakar's Presidential Campaign office along Dandagoro road, Batagarawa local government area of Katsina state, was during the weekend attacked by thugs who allegedly destroyed vehicles parked within the premises.
The suspects reportedly attacked supporters of the former vice-president whom they met in the office.
According to Jacob Dickson, spokesman of Atiku's campaign in the north-west geopolitical zone, said items worth hundreds of millions of naira were destroyed during the attack.
Aliyu Abbas, who is the current chairman of the Atiku Care Foundation Chairman, said it was "barbaric for the thugs to have attacked the office and innocent supporters who were celebrating there".
According to eye witnesses who said the thugs came to spy in tricycles first, before launching their attacks said;
"We (supporters of Atiku) went to the PDP northwest zonal rally that took place at the party's secretariat in Katsina and returned to celebrate the colourful outing in our befitting campaign office refurbished in support of Atiku's candidature ahead of the forthcoming general elections in 2019 when the Armed bandits and Armed thugs stormed and attacked us," the witness reportedly said.
"Initially, they came in to spy on us before going back to pick up their arms to launch the attack. They smashed windscreens, mirrors and bodies of vehicles parked within the premises of the campaign office with cutlasses, sticks and others they were carrying on their hands.
The campaign office
"They damage our fence, brought down our party flags erected round the fence and went away with some of the party flags.
"We have reported the case at the Divisional Police Office in Batagarawa and the DPO with his men have swung into action immediately."