Two Students Abandon Wedding Receptions To Write Final Examinations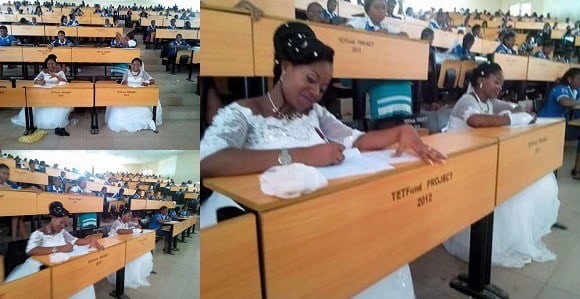 Brides Write Final Exams In Wedding Gown
Two final-year Mass Communication students at the Benue State University, Makurdi, Benue State, identified only as Dorcas and Deborah, on Saturday, abandoned their wedding receptions to take their final exams, Naija News understands.
The final paper is codenamed, Com 402: Media Law and Ethics.
The newly-weds left their husbands behind with their bridal trains and came into the examination hall in their wedding gowns.
The course lecturer, Dr. Benjamin Ogbu, explained that the two brides entered the examination hall amidst jubilation and excitement.
Ogbu stated that he could not ascertain the surnames of the two ladies because there were other students with similar names.
According to him, "the timetable for the exam was earlier planned before their weddings were fixed and interestingly, it happened to fall on the same date, which is Saturday, 7th April, 2018.
"Since the exam couldn't be shifted, the two brides left their various reception venues to the exam hall in their gowns. I was with the deputy vice chancellor, Academic when both brides stormed the examination hall".
"I was very surprised seeing them. In fact, the deputy vice chancellor was in the hall with me and he saw them. It was a moment of joy for all of us students and lecturers.
"We are happy that our students are seeing husbands to marry and they were happy that they too got married and also graduated same day. So, it was double congratulations for them",Ogbu stated.
He maintained that he, as the course lecturer, and also a member of the Benue State University Examination Monitoring team, was very excited seeing both of them in their weddings gowns with utmost dexterity to graduate.
According to him, wedding ceremonies are social events that cannot interrupt university academic calendar or make examination to be postponed and allow students to miss their final exams.
One of the students' mate, Kenneth, also explained that  he was delighted seeing the courageous steps taken by his mates by not allowing the excitement of their wedding weigh them down.