Lawmakers Want FG To Deploy Soldiers To Benue State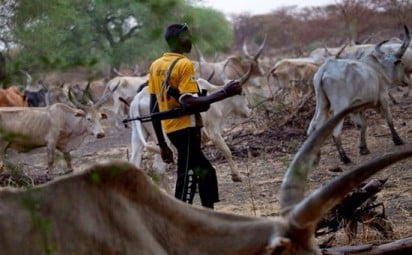 Members representing Benue state in the federal house of representatives, have called on the federal government to deploy soldiers to the state until the killings by herdsmen is completely overcome.
In their submission, the lawmakers put it on record that at least 24 persons have been reportedly killed by suspected herdsmen in various communities in Benue state.
They also alleged that the attacks and killings may continue if urgent steps are not taken to curb the brazen attacks on several communities in Benue.
Dickson Takighir, who spoke on behalf of his colleagues, while addressing newsmen in Abuja on Thursday, said the renewed killings were carried out between April 2 and 4.
"These latest attacks have occurred in Ikyon and Agasha on April 3 and April 4; in Semaka, Asom, Babanruwa on April 3 and in Udei and Umenger on April 2," he said.
"They (the herdsmen) are right now stationed at Nzorov council ward, ready to attack Gbajimba in the Guma Local Government Area. There are others in Nasarawa, ready to attack Udei and Daudu with over 14 people killed in the last four days.
"Similarly, Sengev, Mbakyondo and Mbapa areas of Gwer-West local government area are currently under siege by armed herdsmen.
"In Tsegaase, two people have been killed; one person is missing in Zwatema, two killed in Tse Adeke, one killed in Tse Adudu with one missing in Tsekelefu.
"So far, we have yet to confirm the casualty level in Enger. On April 3, four people were killed in Anyebe and one person at Mbavihi both in Tonbo ward of Logo local government."
"We also demand that the government should deploy a proper military operation in Benue State and to also station military units in restive communities in Benue until the herdsmen menace has been dealt with".