Aribisogan, Ekiti lawmaker, Breaks Silence On Arrest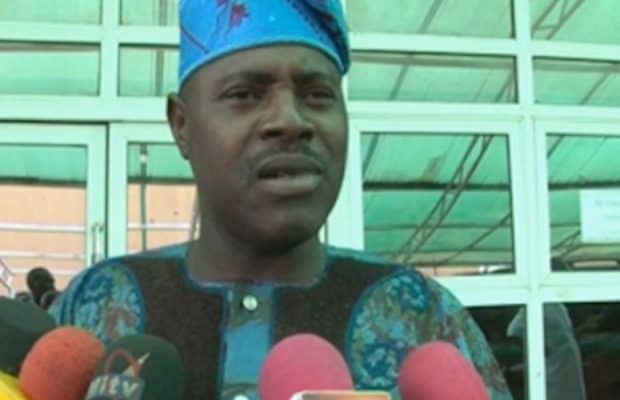 Some Powerful Politicians In Ekiti Wants To Intimidate Me Into Submission – Aribisogan
Gboyega Aribisogan, the Minority Leader of the Ekiti State House of Assembly, has finally spoken out on why he was arrested and whisked to Abuja on Wednesday by security operatives.
Recall that Naija News earlier reported that Aribisogan, who moved from the Peoples Democratic Party (PDP) to the All Progressives Congress (APC) last year, was arrested on Wednesday at about 6.30 a.m.
In the statement of the lawmaker on Thursday in Ado Ekiti, Mr. Aribisogan said the arrest was in relation to a report done by Rotimi Brown, a crime reporter with the New Democrat Newspaper, which he publishes, and for which he was required to give information.
Gboyega stated that at the point of his arrest by the police, he contacted the Ekiti State Commissioner of Police, Ibrahim Chafe, who told him to cooperate with the Police officers.
He said he was arrested by eight police officers in an unmarked vehicle at his house in Ado Ekiti. He, however, said that some powerful politicians in Ekiti State and some military officers were trying to use the arrest as a tool of propaganda to smear his name.
"I believe some powerful politicians and military officers are afraid of their shadows and want to use this to embarrass and intimidate me to submission," he said.
"The issue is not about me or any scam; it is about one of our freelance journalists who is investigating a story of alleged involvement of an outgoing governor in South West and some military officers in the on-going Dasukigate trial.
"Apart from being a notable politician, I am a veteran journalist and publisher. I cannot be intimidated or cowed by any politician no matter his status.
"I understand the hazards of the profession as a journalist of so many years. Even as a politician, I know that opponents can go to any length to suppress or subvert the truth, but I believe no public officer should be afraid whenever they are asked to be accountable to the public.
"Journalists are harmless; they don't carry guns, but their pen. They should be allowed to practise their profession without let or hindrance like other professionals," he added.