Police Arrest Manufacturer Of Fake Alcoholic Wines, Whiskeys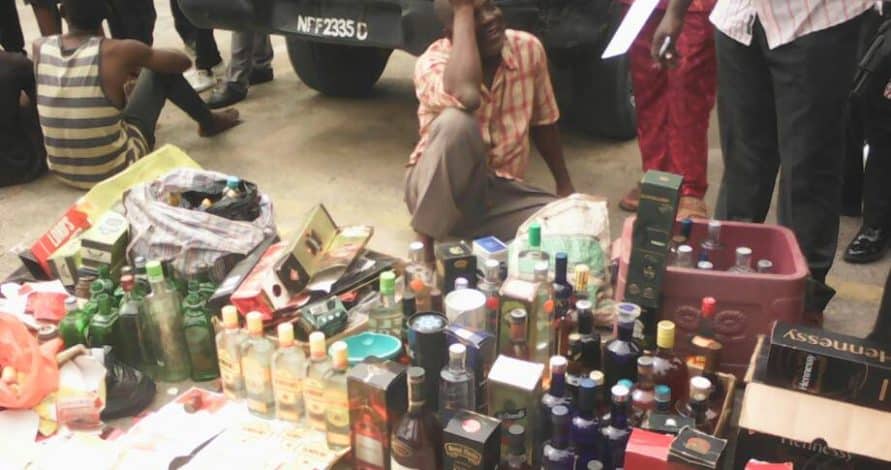 Lack of Support From FG  Led me To Manufacturing Of Fake Alcoholic  Wines – Ojukwu
A 55-year-old man identified as Benjamin Ojukwu is in the Police nest after he was caught adulterating and selling alcoholic beverages and liquors  in Ojuwoye market in Lagos state.
Ojukwu was arrested on Good Friday, March 30 after a valid search was carried out by the officers before his secret was discovered.
According to the state Commissioner of Police, Imohimi Edgal, "A valid search warrant was executed in his shop and the following items were recovered. They include various brands of wines and hot drinks suspected to be adulterated. Empty wine bottles and labeled bottle corks of different types of drinks."
But the suspect denied adulteration of those exotic drinks, insisting that he bought them from the market.
Ojukwu, who said he was a trained in wine manufacturing, blamed the Federal Government and the National Agency for Food and Drug Administration and Control (NAFDAC) for his travails. He said:
"I am a trained wine manufacturer. I trained in Taiwan. When I got back to Nigeria, I used the money I made from Taiwan to set up a wine factory in Nnewi. I got NAFDAC registration number and my company's name is Benaz International Agency and the name of my wine is Lion Abel Gin.
"My trouble started after four years of operating the company with my 11 workers, when an electrical spark from a pole razed my factory. Everything was burnt to the ground and I was left with nothing.
"My first wife left me and I had to return to Lagos. I could not start my wine business so I went into manufacturing of other brands. I did it to survive. I know what I did is wrong but I do not produce fake drinks. I will blame government for not supporting upcoming entrepreneurs like me.
"In Taiwan, after we were trained, their government gave them money to start up, but in Nigeria, entrepreneurs do not have such support. I'm telling you this because I tried to access money from banks but it was not possible. My business can employ a lot of people but government did not take us serious."