Policemen Threaten Journalists, Collects Bribe From Them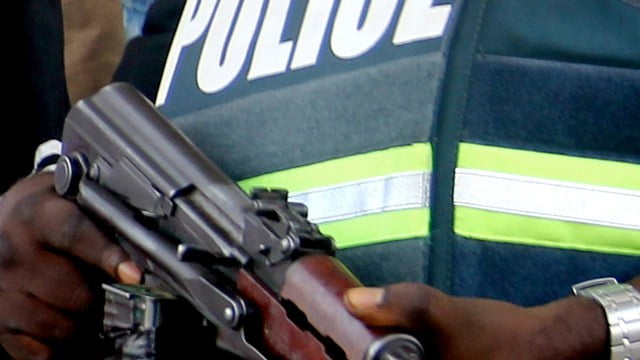 Policemen Forcefully Collect Bribe From Journalists
Policemen attached to the State Criminal Investigation and Intelligence Department, Imo State Police Command, have been accused of allegedly collecting #10,000 bribe from Journalist.
The police detachment on duty then, led by Inspector Uche, were reported to have collected the money under compulsion and threatened to frame the journalist if the bribe was not paid.
A photo of the alleged bribery which has found its way on the social media, had a policeman at the back seat of a vehicle collecting bills of N1,000 notes from one of the journalists.
PUNCH Metro in its report had it that the journalist were members of the Online Media Practitioners Association of Nigeria and had attended the association's convention at the Trade and Investment Centre, Owerri, between March 30 and 31.
It was reported that one of the victims, George Williams, was driving three other journalist to the park after the convention they all attended to board a vehicle to Lagos State, when they got stopped by the policemen.
Williams said, "They were heavily armed. The inscription, Anti-Cultist Unit, was written on the black shirts they wore. They requested my driving licence and other vehicle particulars, which I gave them. They asked us to enter the vehicle and follow them to their office at the SCIID claiming that we were still under investigation. I asked them investigation for what, but they did not respond.
"When we got to their office, they searched us and my vehicle. Nothing incriminating was found. They left us for about 15 minutes. I met with one of them and told him I was a journalist and that my colleagues were returning to Lagos.
"Their team leader, Inspector Uche, said I should let the police do their job. He said my number plate's papers were not original and I told him that the documents were issued by the government. He then said, 'When you come to the police, you bring kola; when the police come to you, you give kola.'
"Eventually, they said if we did not want to go to jail, we should bring N10,000. They said they can level any criminal allegation against us. I told them that I didn't have cash. They said I should use an Automated Teller Machine or transfer the money to their account. I said I did not do transfers."
Williams in his statement revealed that the policemen asked one of them to stay behind while he went with other colleagues to withdraw the money from the ATM, and made it known that the viral photo was taken at that point in time.
"This morning (Monday), I got a call from a man who claimed to be calling from a police station in Aba, Abia State. He asked me if I was okay with what my colleague did. I told him I didn't understand what he meant. He said I should be expecting more calls from him and his colleagues. I was trying to ask him what he meant by that when he cut the call," he added.
One of Williams' colleagues, Juachi Ochu, corroborated the story in an interview with PUNCH Metro.
"We pleaded with them to let us go as we are law-abiding citizens, but all our pleas fell on deaf ears. The inspector threatened to put us in detention and indict us for a criminal offence if we didn't give them the money. I was held at the station while my colleagues went to the ATM to make a withdrawal," he said.
OMPAN President, James Anyenakwa, said the association would take steps towards bringing the bribe-taking policemen to book, he further stated that a petition would be put forward to the Imo State Commissioner of Police and other relevant authorities, adding that the money was deliberately given to nail the policemen.
He said, "It is unacceptable that security agents would harass any of our members in the course of their legitimate duty as journalists for any reason. They were searched, their papers were presented and nothing incriminating was found on them.
"However, security operatives, who are supposed to protect them, decided to harass and extort money from them. They threatened to detain them throughout the Easter period if they refused to part with some money. Because they (the victims) needed credible evidence of what happened, they decided to play along and paid the money.
"We have all the evidence. We insist that those law enforcement officers be brought to book. We need to know that this government is fighting corruption."
Calls made to the line of the Police Public Relations Officer in the state, SP Andrew Enwerem, rang out. He had also yet to reply to a text message sent to him as of press time.