Navy Hands Over 7 Oil Thieves To EFCC In Rivers State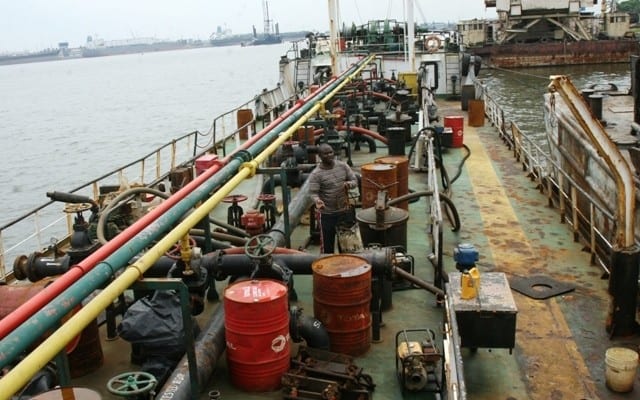 29-year old Captain of the vessel Denies Involvement In Oil bunkering
The Nigerian Navy has apprehended seven suspects for their alleged involvement in crude oil theft. The suspects were intercepted on board their vessel along the waterways of Bonny Island in Rivers State conveying more than two hundred metric tonnes of crude.
One of the Patrol elements of the Nigerian Navy Ship Pathfinder intercepted MT Araba and its crew of seven along the waters of Bonny Local Government Area on December the 21st, 2017.
Since then the arrested vessel and crew have been in custody of the Navy while preliminary investigation lasted.
Now it is time to hand them to a prosecuting agency, the Economic and Financial Commission, (EFCC) for further action.
The Navy says it will maintain regular patrols of the Bonny waterways which is the one of busiest routes for commercial maritime activities in the country.
For its part the EFCC has reacted to concerns from the public that cases like this are usually swept under the carpet assuring all concerned that the case would be pursued to its logical conclusion.
The 29-year old captain of the vessel has in the meantime denied involvement in any criminal activity.