Malala Leaves Pakistan After Emotional Visit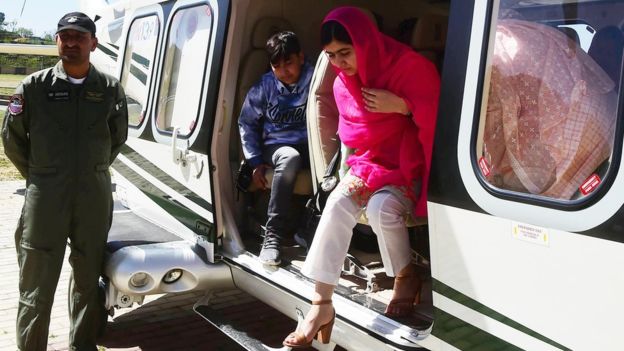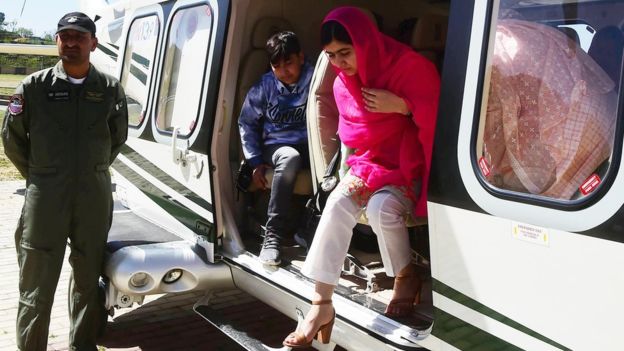 Nobel peace laureate Malala Yousafzai Monday left for Britain after an emotional four-day visit to Pakistan, officials said.Malala made a surprise return visit to Pakistan last week more than five years after she was shot in the head by a Taliban gunman for advocating girls' education.
"Malala Yousafzai along with her family left Islamabad," a government official told Nigeria News.
During a reception at the Prime Minister's Office last week, she tearfully said during a televised speech that it was "a dream" to finally return home.
"Always it has been my dream that I should go to Pakistan… in peace and without any fear.
"And I think that it's my old home again … so it is actually happening, and I am grateful to all of you."
Naija News gathered that Malala briefly visited her native Swat valley over the weekend during her first trip back to the once militant-infested region where she was targeted.
"I left Swat with my eyes closed and now I am back with my eyes open," she said, referring to how she was airlifted out in a coma after the attack in 2012.
"I am extremely delighted. My dream has come true. Peace has returned to Swat because of the invaluable sacrifices rendered by my brothers and sisters," she said at a school outside Mingora, the district's main town, where she was escorted by the Pakistani military.
The trip was a highly symbolic moment for Pakistan, which regularly touts Swat as a success story in its long battle with extremism as it defends itself against accusations by the US and others that its northwest remains a safe haven for militancy.
Since leaving Pakistan, the 20-year-old Malala has become a global symbol for human rights and a vocal campaigner for girls' education.  Winner of the Nobel Peace Prize in 2014, she has continued her campaigning while pursuing her studies at Oxford University.