Amaechi Advices Igbos To Apologise For Voting Against Buhari In 2015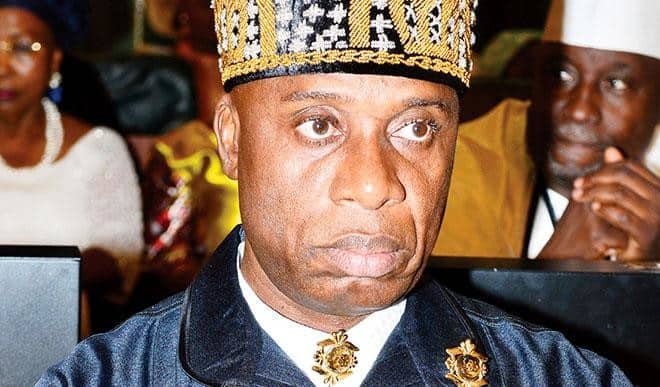 Rotimi Amaechi, minister of transportation, has called on Igbo to rally around President Muhammadu Buhari in his second term bid.
But he advised them to first "go for confession, seek forgiveness" and join the All Progressives Congress (APC) where they will have a chance of producing Buhari's successor.
Amaechi made this pronouncement while delivering a lecture on 'The Igbo in the politics of Nigeria' at the Nnamdi Azikiwe University, Awka, Anambra.
During the 2015 presidential election, most Igbo voted for former president Goodluck Jonathan who was eventually defeated by President Muhammadu Buhari.
Though, the president has not declared his intention to run for a second term, Amaechi has been appointed the coordinator of his re-election campaign.
He said "we are not here for campaign…we must tell ourselves the truth about what Buhari has done".
He said the government has done a lot for Igbos more than any other administration in the past.
"You (Igbo) did not vote for Buhari, true or false? You voted for PDP and what did they do for you? PDP abandoned the Enugu-Onitsha expressway since 1999, but Buhari is working on it, true or false?" he asked.
"Buhari is working on the second Niger Bridge, he is working on the Otuocha-Ibaji-Abuja road, he is working on the Abakaliki-Onueke road, he is working on the Oji-Achi-Naku road in Enugu state, he is also working on Ozalla-Akpugo-Amagunze road. He is working on the Aba-Ikot Ekpene road.
"Under Buhari, all major cities of the south-east are captured in the existing railway project. Name one government that has done up to this within two years. Our problem is that we are just being emotional."
The minister said the Igbo has no hope in the PDP and the All Progressives Grand Alliance (APGA) which he described as regional parties.
According to him, "Igbo should go for confession, seek forgiveness and move into a national party, and look for way to fight from inside.
"They should vote for Buhari for a second term, and then force him out and look for Igbo president. Let the quarrel with the north, real or imagined, stop now".