Pasuma Becomes An Honorary Citizen Of Atlanta Georgia, USA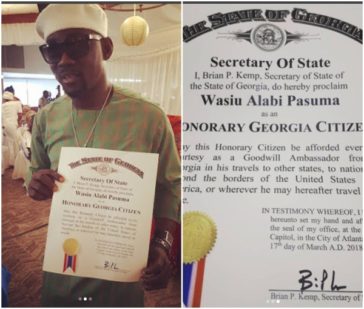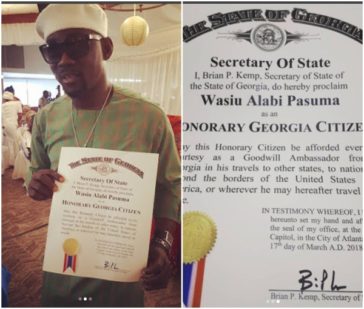 Nigerian Fuji Star, Pasuma will remember the year 2018 as a good year for him, he was awarded an Honorary Citizenship of Georgia few hours ago, and the singer couldn't hold back his joy as he took to his Instagram to share the news.
The Fuji star shared a video from the event and wrote:
Alhamdulillah for all the blessings.
I have been honoured in Georgia Atlanta, USA, as a Citizen of the State. Thanks to the Secretary of the State here in Georgia for this honorary citizenship of Georgia (Atlanta). My immeasurable thanks go to the Almighty God for this wonderful accolade.
To all my fans, at home and abroad, especially here in Atlanta Georgia, thanks for your endless support. May God bless you as you keep standing by me. We shall reap the fruits of our labour. Amen.
Pasuma who has played in almost every city in the United States, was given the award following his contribution and his effort in the music industry. Also, almost all Pasuma's children are living in the United States of America.
Watch Video Below:
See post below: