How 'Operation Deep Punch 2' Led To The Fall Of Sambisa Forest – Army Chief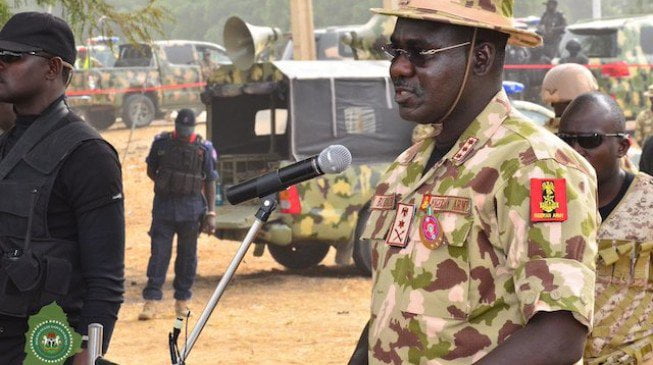 The professionalism and determination of 'Operation Deep Punch 2' has paid off as it has led to the fall of Sambisa Forest in the North East part of the country.
The Chief of Army Staff (COAS), Lt.-Gen. Tukur Buratai, who was represented by Maj.-Gen. Enobong Udoh, the General Officer Commanding (GOC), 81 Division of the Nigerian Army, said this at the 2018 West Africa Social Activities (WASA) programme which ended late on  Saturday  in Apapa, Lagos.
According to The News Agency of Nigeria, the COAS said that the operation and other exercises, which were part of the training activities for  the army in 2017, helped to curtail criminal activities in parts of  the country.
"Various field training exercises such as 'Shirin Harbi,' 'Harbin Kunama 2' and 'Crocodile Smile 2'  were successfully conducted in all parts of the country in 2017.
"The climax of these exercises and operations was the 'Operation Deep Punch 2' in the North East, which led to the fall of the Sambisa Forest.
"These exercises have notably gone a long way in curbing and reducing criminality and other crimes across the country,'' he said.
He urged the army to remain proactive in the discharge of their duties and assured the officers and men that the government would continue to prioritise their welfare.
"We will provide decent accommodation and other social amenities to our personnel.
"We will also  ensure that our troops get adequate logistics in all operational areas in 2018," Buratai said.
Naija News confirmed that WASA is an annual event aimed at promoting team spirits and confidence within and outside the barracks.
It is also a forum for informal, social interaction and avenue for the barrack community to showcase the rich and diverse cultures of the country.
The colourful event featured tug-of-war, dances by cultural groups and presentation of gifts and awards to distinguished soldiers and guests
Download NAIJA NEWS app: