Zuma To Face Persecution on Corruption's Charges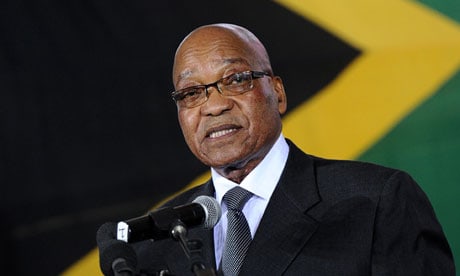 Former South African President, Jacob Zuma will face persecution for the allegation of corruption that bedeviled his regime as the president of the country.
According to Punch, Zuma will face charges of racketeering, corruption, money laundering and fraud charges, all which can can carry lengthy custodial sentences on conviction.
"After consideration of the matter I am of the view there are reasonable prospects of a successful prosecution of Mr Zuma on the charges listed in the indictment," said National Director of Public Prosecutions Shaun Abrahams at a media briefing in Pretoria.
"I am of the view that a trial court would be the most appropriate forum for these issues to be ventilated and to be decided upon," said Abrahams.
According to Abrahams, Zuma will be prosecuted for corruption relating to a 30 billion rand (2.5 billion dollars) arms deal in the late 1990s.
"Justice must not only be done, but must also be seen to be done — I am mindful that everyone is equal before the law," said Abrahams, who noted that "Mr Zuma disputes all allegations against him".
"I don't think Zuma can stay out of court — there's too many charges hanging over him," independent political analyst and author Nomavenda Mathiane told Nigeria News ahead of the announcement.
Last year, a court ruled against a decision by prosecutors in 2009 to drop the corruption charges against Zuma just months before he became president, laying the path to Friday's announcement.
In 2005 Zuma's former financial adviser Schabir Shaik was convicted for facilitating bribes over the contracts and sentenced to 15 years in prison. He was later released on medical parole.
Naija News Recalls that Zuma resigned as president last month after the ruling African National Congress (ANC) party threatened to remove him from office.
The ANC noted Friday's decision and called in a statement for "Comrade Jacob Zuma to be presumed innocent until, and if, proven guilty".