Evans Chained Me For 88 Days – Company MD Tells Court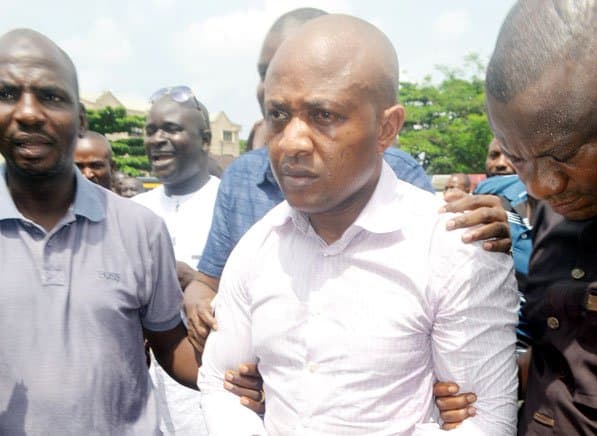 Mr Donatius Dunu, the Managing Director of Maydon Pharmaceuticals Ltd,  Lagos, on Friday told an Ikeja High Court how he was kidnapped and held for 88 days by the suspected kidnap kingpin, Chukwudumeme Onwuamadike alias Evans and his gang.
Evans is standing trial alongside Uche Amadi, Ogechi Uchechukwu, Okwuchukwu Nwachukwu, Chilaka Ifeanyi and Victor Aduba on a two-count charge of conspiracy and kidnapping.
Dunu, who was led in evidence by Mrs Titilayo Shitta-Bey, the Lagos State Director of Public Prosecutions (DPP) in a lengthy four-hour testimony.
According to News Agency of Nigeria, The pharmaceutical boss, the second prosecution witness, began his testimony by identifying his alleged captors.
Removing his spectacles and pointing to the defendants in the dock, he said: "I know this one he is Evans, I know the second one he is Uche and I know the fourth one he is Congo."
Narrating the events of his kidnap on Feb 14, 2017, Dunu added: "At 7.30 p.m. when I closed from work, I was going home along Obokun Street, Ilupeju, Lagos.
"I suddenly saw an SUV in front of my car, I wanted to reverse but two people came out of the SUV holding long guns.
"They pointed the long guns at me and dragged me out of my car and pushed into the booth of the SUV, covering me with a car cover, someone lay on top of me and I was taken to an unknown place.
"On our way, they brought out a locally made iron and bound my hands with and when we had reached the unknown place and while face down I was taken to a bungalow.
"In the parlour of the house, they started asking for my name, my wife and children's name as well as the name of my hometown.
"After telling them, their chairman asked them to bring guns, a very long gun and a black and silver pistol was brought, they showed me the guns and Ak47 was written on the long gun."
The CEO told the court that the kidnappers contacted his older brother, Mr Anselem Dunu, for the ransom, noting that he was tortured and beaten every time his brother was on the phone with the kidnappers.
"I was in a very bad condition when we were negotiating the ransom, they removed my mattress and I was made to sleep on the tiled floor.
"My hands were bound with locally made iron and my legs were bound with shackles used for mad men.
"When I told my brother about the ransom, he started crying that where are we going to get that kind of amount in an economic recession.
"Anytime they called my brother they will beat me for him to hear my cries, I told my brother to get to know sources where we can borrow money from.
"At a point he said they were able to raise N60 million that when I come out, they will get the remaining money from me.
"He said I and my brother are talking rubbish and that he should change the money into euro as agreed.
"There was a time the Naira appreciated so much sometime in March last year that he (Evans) asked not to change it to Euros anymore.
"Later when the Naira depreciated, he asked them to go back to Euros, I pleaded with him that Euros was hard to change and his boys later told me to ask for a discount.
"He agreed to a 50 per cent discount and my bail was reduced from 1 million euros to 500,000 Euros."
Mr Dunu narrated his ordeal with Evans and his gang member. he also narrated how he excaped from the dungeon of the suspect
He said on Easter Monday, he overheard two of his captors plotting to kill him at a canal on the Friday of that week.
He continued: "Evans came the next day and I was given Indomie to eat to give me strength to face them at the canal.
"He told me that to kill a human being is not a sin that if God can permit a lion to kill other animals, then to kill a human being is not a sin.
"The next morning they brought a box that had various dangerous weapons and a particular one had a very long handle and they told me that if it should get into me it will touch my heart.
"I pleaded for my life that I have very young children with the oldest being 14 years old."
According to Dunu, at 3.00 a.m. on the Thursday preceding his planned murder, he escaped from captivity.
"There was a bed sheet on the bed and as a joke, I wrapped it around the leg shackles and the padlocks opened.
"At that point I said to myself I will go, if I stay they will kill me, if they catch me while trying to escape they will still kill me, I might as well go.
"The other person who was to guard me was asleep on a settee in the parlour, the fan was on and was so noisy.
"The wooden kitchen door was not locked but the burglar proof was locked, I unlocked the upper and lower bolts and when I pushed the burglar proof that locks slid from the hook.
"In the compound, there was something like a ladder leaning on the fence and the top portion of the fence where the ladder was did not have bottles.
"I jumped over the fence into another compound and knocked on a window and told the man that responded my problem.
"He said that he did not know me that I should get away from their compound or they will call the police or security and I asked him to call the police.
Dunu while being cross-examined by Mr Olukoya Ogungbeje, Evans' lawyer, said that he made a mistake by giving conflicting dates of Feb. 14, 2017 and April 14,2017 as the date of his kidnap in his statement to the police.
He also said that while writing his statement after his release, he was unaware that a ransom had been paid.
"I did not know while writing the statement that my brother has paid the 223,000 euros to them because the last time I had spoke to him (Anselem) was Wednesday of the Passion Week."
Justice Hakeem Oshodi adjourned the case until May 10 for continuation of trial and cross-examination of Dunu.
Meanwhile, Evan demanded N1 Billion Damages over sealed Lagos property.