Gov Lalong Declares Curfew As Fulani Herdsmen Kills 2 Soldiers, Others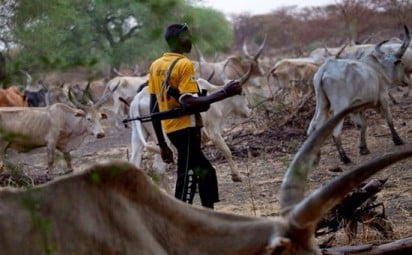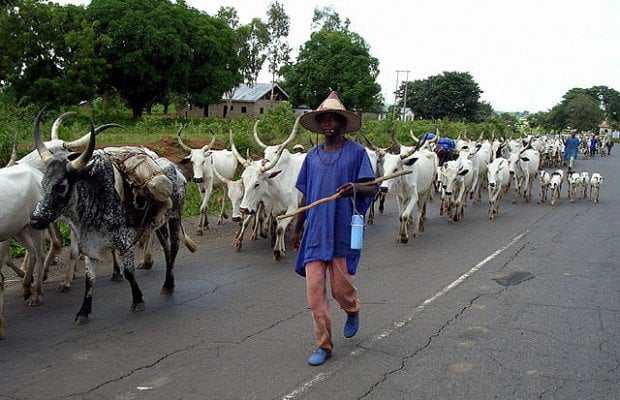 An attack suspected to have been carried out by Fulani herdsmen has left Two soldiers, two mobile policemen and about 23 others dead at Dung Kasa, Rafiki and Dutse Kura communities in Bassa Local Government Area of Plateau State.
Naija News learnt that Two civilians were killed with houses razed and cars burnt during an attack
"Again and again the marauding Fulani terrorists still again killed two soldiers, two mobile police officers. The death toll is now two MOPOL, two soldiers and two civilians, making it seven," an eyewitness stated.
According to the Director, Army Public Relations, Brig. Gen. Texas Chukwu, seven suspects had been arrested, and their weapons has been retrieved.
The army also noted hat 23 dead bodies were also recovered at the Mararaba Dare area, after the herdsmen opened fire on the residents.
Chukwu said, "Troops of 3 Division Garrison, Jos arrested seven suspects and recovered weapons in the clash between Miango community and herdsmen at Rafiki village on Wednesday. The troops responded to distress calls to the clash reported by locals.
"As troops moved in to settle the dispute, the herdsmen opened fire on them. Two soldiers paid the supreme price and seven suspects were arrested in connection with the clashes.
"While conducting search, troops discovered 23 dead bodies at Mararaba Dare shortly before Rafiki village and many civilians were wounded. Two other soldiers wounded are receiving medical attention at 3 Division Military Hospital and Medical Services. They are stable.
"Weapons recovered include one Ak 47 assault rifle with 26 rounds of 7.62mm special and one locally made single barrel loaded with 15 rounds. Troops have intensified patrol within the general area to forestall further break down of law and order."
Naija News learnt that , Governor Simon Lalong immediately after the incidence occurred launched an emergency security meeting from where a decision was taken to impose dusk to dawn curfew.
The Secretary to the State Government, Mr. Rufus Bature, in a statement after the meeting, said the state had declared curfew in Bassa Local Government Area of the state within 6pm and 6am daily, after consultation with security agencies.
The SSG admonished the affected communities to be calm, embrace peace and live in love, as they were doing every thing to ascertain the cause of the problem.
"Consequently, security agencies in area have been mandated to enforce the curfew.
"Law abiding citizens are advised go about their lawful businesses,'' he said.
The President of the Miango Youths Development Association, Lawrence Zongo, had earlier announced the latest attacks in a WhatsApp message to The PUNCH on Wednesday.
He gave the names of those receiving medical attention at the Enos Hospital as Danladi Rigye (35), Audu Ivy (23), Sunday Friday (17), Weyi Ishaya (25), Bala Musa (26), Yakubu Davo (25) and Jerry John (40).
Others are Timothy John (19), Abbah Audu (19), Sunday John (21), Daniel Audu (24) and Yakubu John (22).
Zongo said, "There was a fresh attack this (Wednesday) around 6.30 am on Dung Kasa, Rafiki and Dutse communities. Two persons have died; more than seven people have been seriously injured by Fulani terrorists.
"One person is missing. Yet, the Nigerian Army failed to arrest the Fulani terrorists but were busy protecting them and asking our vigilantes what they have to offer them.
"This is getting too much as people in Rafiki and Dutse Kura where there is a clash between the local vigilantes and Fulani terrorists to protect the people within the attacked areas. Since the Nigerian Army cannot protect us, we have to protect ourselves.
"We appreciate the efforts of management of Enos Hospital and Bingham University Teaching Hospital in Jos for taking time in treating the injured once."