Senate Cautions INEC on Questioning The Power of NA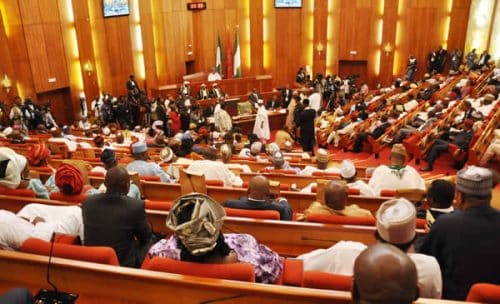 The Senate Has cautioned the Independent National Electoral Commission (INEC) against paying attention to misguided statements and pronouncements questioning the powers of the National Assembly to legislate on the Electoral Act.
The President of the Senate, Dr. Bukola Saraki said this while speaking at the public hearing on the bill to establish the National Electoral Offences Commission, where he weighed in on the controversy generated by the recent amendment to Section 25 of the Electoral Act. Naija News gathers
it will be recall that Naija News reported how the National Assembly recently passed the amendment, which would see the National Assembly elections holding first, before elections into the state Houses of Assembly and governorship on a separate day, while the presidential election would be conducted last, to complete the general election cycle.
INEC had initially said it would head to court to seek an interpretation of Section 76 of the Constitution which provides that the elections shall be held on a date to be appointed by the electoral body.  It, however, later stated that it would abide by the new election sequence provided by the amendment, which would result in the alteration of its already released 2019 elections time-table if the amendment is signed into law.
INEC had already slated the presidential and National Assembly elections for February 16, 2019 while the state assemblies and governorship elections were slated for March 2, 2019.  But Saraki at the hearing yesterday, maintained that the National Assembly has the mandate to exercise the power to legislate over the electoral body and other agencies of government.
Represented by the Deputy Senate Leader, Senator Ibn Na'Allah, Saraki added that the National Assembly cannot be involved in any legislation that violates the constitution.
"Of recent, there have been arguments on who has the power to do what," he said, adding that Nigeria has a lot of people who know how to go to court and get all kinds of judgments.
"INEC should be cautious of who it is listening to. We would not stand by to see the Constitution violated. It is necessary that we caution ourselves, we need this country, we love this country," Saraki said.
Saraki also expressed concern over the fact that some aspirants and political parties were already campaigning, even though INEC has not given the green light for 2019 election campaigns.
"The Senate, in particular, would be very worried if INEC begins to condone the actions of some political parties. You have not declared campaigns open and some are already campaigning," Saraki said.