US Secretary Of State, Tillerson Cancels Visit To Nigeria?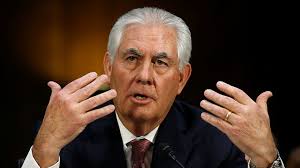 There are indications that the United States Secretary of State, Rex Tillerson may not visit Nigeria as earlier expected due to 'urgent work back home'.
According to Reuters, Tillerson has been forced to end his trip to Africa and return to Washington about one day ahead of schedule.
"Tillerson's travel plans have changed so that he can return to Washington early on Tuesday morning instead of late that night, a spokesman for the top U.S. diplomat told reporters traveling with him," the report said, citing the need for Tillerson "to deal with urgent work," back home.
Recall that as earlier reported by Naija News, Tillerson was expected to arrive in Abuja on Monday from Nairobi for his first official visit to Nigeria.
His visit would have seen him become the highest ranking official in the Trump administration to visit Nigeria.
He was expected during his visit, to discuss peace, security, good governance, and mutually beneficial trade and investment with President Muhammadu Buhari.