Plane catches fire while landing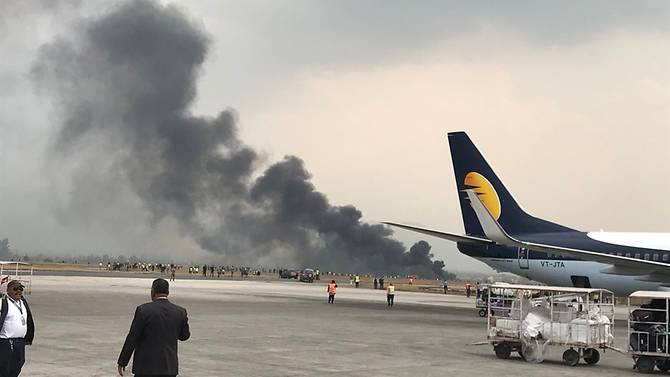 At least 40 people were killed and 23 injured when a Bangladeshi passenger plane crashed in Kathmandu Today. Naija News learnt.
There were 71 people on board the US-Bangla Airlines plane from Dhaka when it crashed into a field near the airport.
Rescuers had to cut apart the mangled and burned wreckage of the aircraft to pull people out.  "The chances of rescuing anyone (else) alive is slim now because the plane was badly burned," said army spokesman Gokul Bhandaree, who confirmed the deaths.
This is the worst aviation disaster to hit Nepal in years. Airline spokesman Kamrul Islam said 33 of the passengers were Nepali, 32 were Bangladeshi, one was Chinese and one from the Maldives. Naija News gathers
The cause of the crash was not immediately clear, but a statement from airport authorities said the plane was "out of control".
An official from Bangladesh's civil aviation ministry also said  that "there might be technical problems on the aircraft". "But it has to be probed before making a final statement," he said, adding that the plane was a Canadian-made Bombardier Dash 8 Q400 turboprop. 
According to the  airport spokesperson, the aircraft caught fire after it careened off the runway during landing,
Source: Naija News