U.S Secretary Of State To Visit Nigeria Tommorow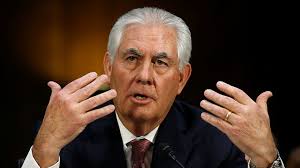 U.S. Secretary of State, Mr. Rex Tillerson, is set to arrive Nigeria on Monday, for his first official visit to the country.
According to a press advisory from U.S embassy, the Secretary of State who has been on a week-long tour of Africa would hold talks with President Muhammadu Buhari on counter terrorism efforts and humanitarian issues in Nigeria's Northeast and the Lake Chad basin on Tuesday.
"When he arrives, Tillerson will become the highest ranking official in the Trump administration to visit Nigeria.
"The secretary is expected to hold a press conference at the Presidential Villa on Tuesday by 11.45 a.m
"Tillerson is expected to be joined by Minister of Foreign Affairs, Geoffrey Onyeama," the embassy stated.
He has visited the Horn of Africa just days after he announced a new $533m aid package for Africa, out of which $128m was earmarked for Nigeria and countries of the Lake Chad region.
During hi visit and discussion with the president, he is also expected to discuss how to advance peace and security, promote good governance, and spur mutually beneficial trade and investment with the president
During his trip, he is expected also to meet with U.S. Embassy personnel and participate in events related to U.S. government-supported activities.