Obasanjo Reveals How Boko Haram Can Be Defeated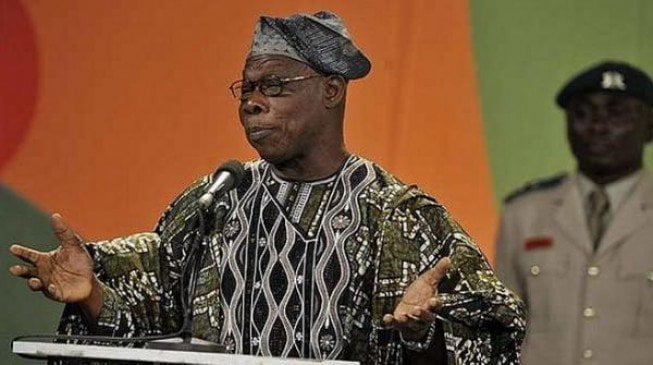 Former President Olusegun Obasanjo, has submitted that Nigeria can only defeat Boko Haram insurgents if government can solve the problem of hunger and joblessness among its citizens.
Speaking in Maiduguri, the Borno state capital, during a meeting of the Zero Hunger Forum, a social development goal program of both the Nigerian government and international development partners, Obasanjo said most of those involved with the Boko Haram sect, are doing so due to lack of food and jobs.
Naija News learnt the meeting was attended by Governor Kashim Shettima of Borno state, officials from the federal ministry of agriculture, as well as others from Borno, Benue, Sokoto, Ogun and Ebonyi states.
He explained that of the 17 Sustainable Development Goals agenda of the United Nations, "zero hunger is number two".
He said: "Zero hunger, or ending hunger has ramification, on 14 other goals. Infant mortality, alleviation of poverty, maternal mortality and all of them have things to do with food security and nutrition."
"So when the world food program asked me to lead a committee to work out and implement zero hunger in Nigeria, I was more than delighted to do so. And I want to say, that we are not trying to reinvent the wheel. We are not trying to bring new policy; we have enough policies that have been neglected by non-implementation, and if we can implement the policy that we have there will be no doubt that we will beat hunger by the year 2025".
"This is what we are doing; we are trying to help those who need help. In one of the states, someone asked that how much does the Zero Hunger Forum has to combat hunger and I said the truth is that we have no money; but we have what we can do to help by making sure certain policies are implemented. We have things we can do to make sure we put hunger at bay in Nigeria and particularly in the North-eastern part of Nigeria," Obasanjo said.
He anchored his submission that most of the insurgents were driven by lack of food and job, on a recent research work by World Bank on Boko Haram.
He said: "The world Bank said they interviewed 26 former Boko Haram members and 25 of them out of 26 said they were in Boko Haram because they have no job.
"Only one of them said he was there because of religious conviction. So zero hunger tends to contribute in bringing an end to insurgency – not only in the North-east, not only in Borno state but also generally in Nigeria.
"So in the next two days we will interact, we will find out things, we will listen and share thoughts and by the time we finish we will know that we have all gained something, we have all learned and will be able to move forward in food production, and nutrition in this state and by extension in the whole of Nigeria."
"And we have seen your agricultural equipment, and I can say authoritatively that there is no state in Nigeria that has the quantity of the agricultural equipment that Borno state has. The only thing now is how do we make use of the equipment for maximum production."
"For that to happen, there must be efficient evidence of security, otherwise, those naughty boys and girls whom we call Boko Haram, will continue to look for soft underbelly, like a farmer working on his farm, an isolated village, where they will make life impossible through threats and intimidation of the life of the people."
"I believe what we are doing, zero hunger, would help in fighting the scourge of the insurgency".