Chimamanda's `Americanah' Listed Among 21st Century Books By Women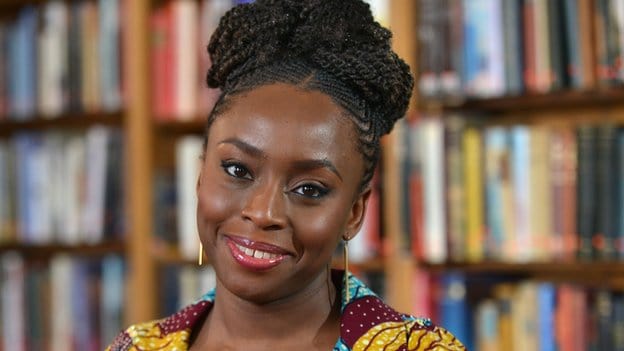 Chimamanda Adichie's novel 'Americanah' has been listed among the 15 remarkable books by women that are shaping the way fiction was being written and read in the 21st century."
New York Times Staff Book Critics listed the the book among fiction books, each of which features a woman at its center, to mark Women's History Month.
News Agency of Nigeria reports that the international news magazine wrote on its website 'nytimes.com' that the list of fiction books were compiled to mark Women's History Month, tagging the women 'The New Vanguard'.
The list aims "to think about these writers who are opening new realms to us, whose books suggest and embody unexplored possibilities in form, feeling and knowledge."
According to Adichie's citation in the News magazine, "Chimamanda Ngozi Adichie's first novel, "Purple Hibiscus," was long listed for the Man Booker Prize.
"Her second, "Half of a Yellow Sun," won the Orange Prize. In 2008, she was awarded a MacArthur "genius" grant.
"But "Americanah" more than paid off on this writer's promise. It's a resonant and fiercely intellectual novel about a Nigerian woman named Ifemelu who leaves Africa for America and suffers here.
"Before starting a blog called "Raceteenth or Various Observations About American Blacks (Those Formerly Known as Negroes) by a Non-American Black" and winning a fellowship at Princeton.
"Adichie works both high and low; she's as adept at dissecting internet and hair salon culture as she is at parsing the overlapping and ever-changing meanings of class and race in the United States.
"Americanah" brings news, on many fronts, about how a new generation of immigrants is making its way in the world. It has lessons for every human about how to live,"
You will recall that the novel that centers around Ifemefu's adventure to American and her love life, won the 2013 National Book Critics Circle Fiction award, was selected as one of the 10 Best Books of the year by the editors of the New York Times Book Review, and was shortlisted for the 2014 Baileys Women's Prize for Fiction of the United Kingdom.
In March 2017, Americanah was picked as the winner for the "One Book, One New York" program, part of a community reading initiative encouraging all city residents to read the same book.
"Americanah" was recognized by The Chicago Tribune, as Adichie won 2013 Heartland Award for Fiction.
Naija News Understand that the Women's History Month is an annual declared month that highlights the contributions of women to events in history and contemporary society.
Interestingly, Naija News brought to your notice Chimamanda Adichie Celebrated her day a week ago as he clocked 86